Believe it or not, I have not had a lot of experience with Indian food in my 37 years. I think I was always scared that I wouldn't like it and prior to starting the gluten-free diet, I wasn't very adventurous in trying new foods. I knew what I liked & stuck with those foods. In September I received some samples of Tasty Bite products that I have been working through over the past month or so. At first I was a little leary, but I quickly brushed that feeling away and decided to keep an open mind. Boy, am I glad that I did!! I have to tell you that I was a complete moron for not sampling Indian food before.
When glancing at the Tasty Bite gluten-free product list, I was amazed! There are so many different dishes, sauces & rices to choose from. As you can see, I was sent a nice variety of products to sample.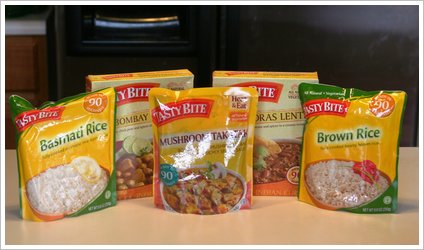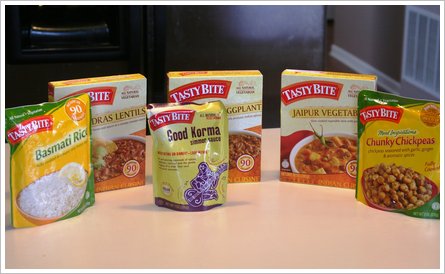 The rices were nice because they take only 90 seconds in the microwave to cook. This has been very helpful with our hectic schedule lately. I love chickpeas and the Chunky Chickpeas did not disappoint. I did add some roasted vegetables to the bowl to help bulk it up.
The Madras Lentils were not only great over the basmati rice, but in a corn tortilla as a taco, too! I love the convenience of these items without all of the added crap that some convenience products have in them.
The Bombay Potatoes make a wonderful side dish for chicken or fish. I love the texture combination of the chickpeas & potatoes. Unique and not something I would have considered putting together before trying this dish.
The Jaipur Vegetables were a nice treat! I loved the raisins in this dish. I had this over rice with a salad on the side. Then I decided that I would add the leftovers to my salad the next day and that was equally delicious.
I still have to try the Good Korma Simmer Sauce, Mushroom Takatak, and Punjab Eggplant. I think I will be consulting the recipes page for some inspiration with the last three items. Just looking over that page made my stomach growl!
What I really, really like about these products is the simple ingredient lists, as I touched on above. There are no chemicals, preservatives, or words that you can't pronounce on the packages. I can't stress how much I love this. Tasty Bite was launched in 1995 and offers 39 different products, most of them being gluten-free. Each product is clearly labeled if it is gluten-free. Tasty Bite products can be found in stores across the US or ordered online here. There is free shipping on all orders over $65.00. Make sure to check out Tasty Bite on Facebook and Twitter for all of the latest news & product info.
Have you tried any items by Tasty Bite? What are your favorites?
**The products in this review were sent to me free of charge. The opinions in this post are mine and have not been influenced by anyone or anything.