Recently I was told by my doctor that I have Anemia. Anemia is common among those with Celiac Disease, though mine is most likely self-inflicted, at least at this point in time. I have been donating blood this year and it seems as if I may need to take a break. Labor Day weekend was the 3rd time this year that I donated. Since then I have been tired and run down. I expected that for a week or two, but not this long. Additionally, my menstrual cycles are off, which is what lead to the testing to begin with. I opted to try iron rich foods for the next few weeks before looking to iron supplements. My stomach doesn't do well with iron supplements, so I hope that this works. I will repeat my blood test in 1-2 months to check on my levels.
After doing some research, here are some iron-rich foods that I already eat:
Kale/Spinach

Dried fruit (raisins, prunes, apricots)

Beans & lentils
Some foods iron-rich foods that I am adding:
Bison

Red meat – filet mignon

Shrimp

Scallops

Vega

Shake & Go Smoothie (30%-40% of the RDA for iron)*see my review below

Chia seeds
Last night I was piecing together dinner when I got a chance – the rest of the family had already eaten. I sautéed some kale & carrots in a touch of extra-virgin olive oil and added some black beans and gluten-free pasta for a huge pasta/veggie bowl. I tossed everything with some low-sodium soy sauce (La Choy is gluten-free) and then topped with some goat cheese. Awesome, iron-rich combo!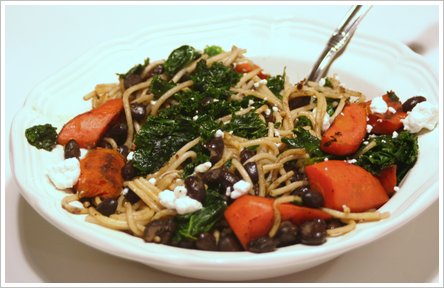 I can think of so many more combinations that would work well in this dish. I had the leftover kale & carrots with my lunch today. I had a tuna melt and spinach salad, which has become a lunch staple these days. I just read about how it is important to get enough vitamin C, as your body absorbs iron better with it.
***********************************************************
I had the opportunity to sample the Vega Shake & Go Smoothies in the past month. There are 4 different varieties of the Shake & Go Smoothies:
Bodacious Berry

Vanilla Almondilla

Tropical Tango

Choc-A-Lot
I was able to sample all but the Tropical Tango. The shakes are simple to literally shake & go. Simply add 4 – 8 oz of water, shake & go. The flavors were tasty and the nutritional stats are good. Some of the additional benefits are listed below:
Two servings of veggies

2500 mg Omega- 3-6-9

11g complete protein

Only 100 calories

1 billion probiotics cultures
The shakes are free from gluten, dairy, soy, corn, wheat & yeast and only have 6 grams of sugar per serving! Vega products can be purchased online or in stores (Whole Foods) across the US. I can see these shakes being useful during marathon training in addition to extra vitamin support while trying to get my iron level up.