Live Gluten Freely is General Mill's gluten-free website that is chock-full of information pertaining to the gluten-free diet. The site has a listing of gluten-free products, recipes, articles written by the Live Gluten Freely bloggers (hint – I am one of them) and much more. I am thrilled to announce that MyBlogSpark, together with Live Gluten Freely, will be giving one of my lucky readers a prize pack full of gluten-free goodies from General Mills.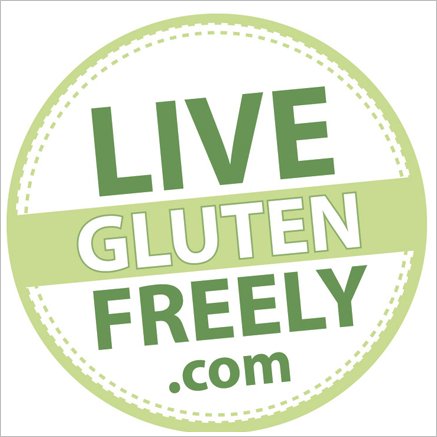 LiveGlutenFreely also provides great-tasting recipes ranging from breakfast treats like Blueberry-Corn Muffins to delicious dishes like Favorite Chicken Nuggets to indulgent desserts like Brownie Ganache Torte with Raspberries and Carrot Cake.

General Mills is proud to offer more than 300 affordable gluten-free products, available in grocery stores nationwide. Keep up with new additions to the gluten-free list by subscribing to the LiveGlutenFreely Newsletter. Every month, you'll receive great "goodies" like yummy gluten-free recipes, tips, coupons for gluten-free items, new product information and more delivered directly to your inbox. Click here to sign up today!

Also, be sure to visit Live Gluten Freely on Facebook at Facebook.com/glutenfreely. "Like" the page and check out recipe ideas, product news and tips about living without gluten…freely!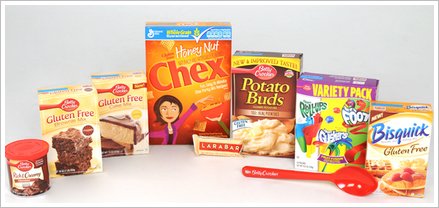 Now for the fun part. See the products above? All of those are part of the awesome prize packaged brought to you by MyBlogSpark & Live Gluten Freely. I received the same package last week and have already been into the cereal and made some brownies with chocolate frosting. They didn't last long here! Also, the Peanut Butter Cookie Larabar is one of my favorite flavors. What do you have to do to win? Simple. Just leave a comment below telling me which product you would like to see available gluten-free. That is all you have to do to enter.
For additional entries (1 extra entry per comment) do one or more of the following.
1. "Like" Gluten-free is Life on Facebook.
2. Follow me on Twitter.
3. Tweet about this giveaway making sure to include "@kbouldin" and "#myblogspark" in your tweet.
Good luck! Contest will end Wednesday, November 10, 2010 at midnight!
**Prize package for my reader and myself were provided free of charge courtesy of MyBlogSpark and Live Gluten Freely.