With the holidays right around the corner, crackers are a must for appetizers and cheese trays. I have discussed the topic of crackers on my blog before, both good & bad. Anyone who has been gluten-free for any period of time is well aware that good gluten-free crackers can be hard to come by. I picked up a box of Back to Nature White Cheddar Rice Thins not too long ago and was in for a pleasant surprise.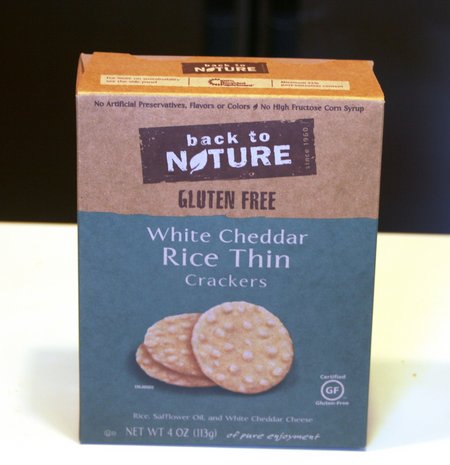 I wasn't sure what to expect from these crackers, so I didn't go into tasting them with high expectations. As a result, I was pleasantly surprised. The crisp crackers have a wonderful sharp, white cheddar flavor. The crackers hold up well to dipping or topping with your choice of topping. These would be great topped with crab dip, hummus and red pepper or even an apple jelly to compliment the white cheddar. These crackers have decent nutritional stats and the following characteristics:
Gluten-free

No Cholesterol

0g Trans Fat

No Hydrogenated Oils

No Artificial Preservatives, Flavors or Colors

Certified Gluten-Free
Back to Nature also has a Multi-Seed gluten-free cracker. I have not had the opportunity to sample this variety, but Tiffany Janes of Celiac-Disease.com has. Please click here to read her review.
I have seen these crackers in my mainstream grocery stores around town. Click here to find one close to you. The crackers can also be purchased on Amazon.com in bulk.
Consider the Back to Nature Crackers in addition to Glutino & Crunchmaster Crackers for your holiday parties this year.