I am so thrilled to be a part of this amazing giveaway that I can't contain my excitement! I love this kind of stuff so that I can help spread the gluten-free word and get great products into my readers' hands.
Katie Chalmers, Author and Illustrator of the unique new book, "Mommy, What is Celiac Disease ?" is offering (think: perfect gift!) the "Gluten-Free Holiday Giveaway Galore x10!" to 10 lucky winners. Where do I come in? I get to host 1 of the 10 giveaways, meaning that 1 of my lucky readers will win the amazing prizes below: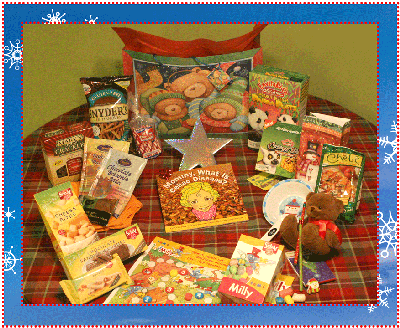 PRIZE CONTENT DETAILS:
-Signed copy of Mommy, What is Celiac Disease?
-Schar 123 Milly PlayMais- dice game & biodegradable natural toy activity brick set
-Schar products: Cheese Bites, Chocolate -or- Vanilla Sandwich Creme Cookies, Hazelnut Wafers
-Pamela's Products: Single Serve Pancake Mix, Single Serve Brownie Mix, Dark Chocolate Chocolate Chunk Cookie two-pack, Tablespoon/teaspoon measuring spoon, kids sized t-shirt- color will vary
-Nature's Path: Peanut Butter Panda Puffs & crispy rice bars- flavors will vary, $1 off coupons
-Mary's Gone Crackers: one of the following: box of cookies -or- crackers -or- Sticks & Twigs
-Snyder's of Hanover: bag of gluten-free pretzel sticks
-Chebe: pizza crust mix -or- all purpose bread mix
-Bob's Sweet Stripes: one bag of soft peppermint candy sticks
-Stuffed teddy bear: colors may vary
-Holiday pencils, eraser, holiday notepad & plastic snowman cereal bowl
-Large holiday gift bag & small holiday gift bag & tissue paper- will need to be assembled to give as gift
*Contents may vary
I was able to read this book a month or so ago and was really impressed with it. Not only are the pictures attractive to the adult eye, but to a young child's eye, too. I've shared this book with my daughter (8) and God daughter (3) and they both loved the little girl (and her curly hair). Inspiration for the little girl in the book came from Chalmers' own daughter, Morgan, who was diagnosed with Celiac Disease in 2008. The book helps explain what Celiac Disease is in terms that are easy for a younger child to understand. Topics covered in the book include foods that are safe for the gluten-free diet and ideas about what to do when your child needs to avoid gluten-containing food away from home and bring along something safe to eat. The book ends by talking about how eating is such a small part of life and concentrating on all of the fun things there are to do in life helps us keep a positive attitude. I love all of the positivity radiating from this book! It is easy to get discouraged with a new diagnosis, especially one that involves a major diet change like the gluten-free diet. Explaining all of the details can be made just a little easier (and fun) with a book like "Mommy, What is Celiac Disease?"
I am hosting this giveaway in conjunction with these 9 other gluten-free/celiac bloggers. The giveaway will run from from Wed. Dec. 1 – Wed. Dec. 15, 2010:
Accustomed Chaos – Devan
Adventures of a GF Mom – Heidi
Be Free For Me – Kathleen
Celiac Family – Heather
Gluten Free Betsy – Betsy
Gluten Free Easily (gfe) – Shirley
Gluten Free Philly – Michael
Gluten Free Taste of Home – Cinde
Simply Sugar & Gluten Free – Amy
———
Contest Rules:
• All 10 of these contests are open to residents of the USA. Only the Accustomed Chaos & Gluten-Free Easily contests are also open to Canadian residents.
• All 10 contests begin on Wed. Dec. 1, 2010 and will end on Wed. Dec. 15, 2010 at 10pm EST.
• Entry requirements will vary between bloggers. Please follow their directions to enter.
• Entrants can only win once total within all 10 giveaways. If anyone is chosen more than once as a winner, another winner will be chosen so everyone only wins once.
• One winner per household.
• Winners with valid entries will be selected at random. The winners will be announced and notified via email and must reply within 24 hours to claim. Otherwise, another eligible entry will be chosen, in order that all prizes will arrive before Christmas. So please remember to check your email on Dec.16th.
• If any of the 10 prizes do not arrive before Christmas because of any unforeseen holiday mail rush problems, the USPS, Katie Chalmers and hosting bloggers will not be held accountable.
Now, all you have to do to enter is leave a comment telling me what your favorite gluten-free product is.
For additional entries, complete one or more of the following, leaving a comment for each one completed.  This can increase your chances of winning.
1.  Follow me on Twitter.
2.  "Like" Gluten-free is Life on Facebook
3.  Subscribe to my blog or blog about this giveaway & link back.
Good luck!!