While we don't seem to be getting as much snow as some places in the Midwest, we are getting enough. It began raining last night and wasn't supposed to turn over to snow until noon today. Guess what, they were wrong. We noticed the change between 9:00 and 10:00 AM this morning. Now our backyard looks like a winter wonderland. They are predicting 1-3 inches, but at the time I posted this, we are already over that and the storm isn't supposed to end for 12+ hours yet.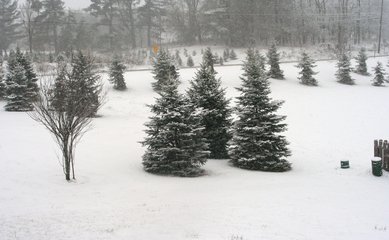 Along with snow and cold weather comes illness. Jon was the innocent victim this past week with a sore, headache and cough. He is still fighting it. I took him to the Minute Clinic earlier this week to make sure it wasn't strep. He just has a nasty virus. Poor kid! He did manage to play hockey this weekend, sick, and they won all 3 games. They are now 4 and 0 in their season!
Since I didn't hit the grocery store today, I will me be creating meals from the pantry & freezer this week. I did have Aaron pick up some milk and fresh produce yesterday, but we skipped the weekly trip today. I have been in my jammies all day and I am loving it!
Sunday – Shrimp, kale & Schar pasta with salad
Monday – Steelhead trout, coconut brown rice, green beans & salad
Tuesday -Taco Tuesday – salads or Mexican pizzas this week
Wednesday -BBQ chicken breasts, baked potatoes, broccoli & salad
Thursday -Dinner out with a friend/leftovers for the family
Friday -Pizza (make your own pizza) night & salad
Saturday -Breakfast for dinner
Baked Goods
Christmas cookies
***********************************************************************************
Don't forget to enter the Gluten-Free Holiday Giveaway Galore x 10!! Only 2 more days!!
***********************************************************************************
Weekly Recap:
Gluten-free Weight Loss Webinar
My favorite Chebe products.
Schar cookie review.
Gluten-Free Food becoming more abundant in local stores.
Holiday Baking Company offers Christmas menu.