Ian's Natural Foods has a wonderful variety of gluten-free (and allergen-free) products on the market. One of the hardest things about starting the gluten-free diet is being a kid and having to start the gluten-free diet. Kids are naturally picky eaters (or many of them are), so finding foods to replace the old standbys can be tough. This is where Ian's comes in. The products that Ian's makes are geared towards kids' taste buds.
Ian's has a couple of new (or newer) products that I have just been able to sample. Cookie Buttons & Wafer Bites.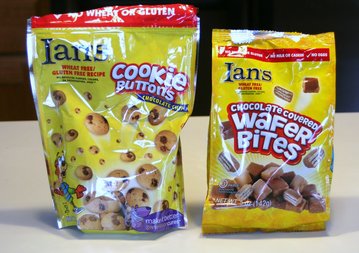 Chocolate Chip Cookie Buttons: You've never had cookies like Ian's Wheat-Free/Gluten-Free Chocolate Chip Buttons before! These bitty buttons are the perfect addition to your lunch box or soccer bag and come in individual bags that are all your own—and it's a good thing because you won't want to share! Plus, they are made without wheat or gluten. So even kids with food allergies can enjoy them! You'll love the taste, and your mom will love the all-natural ingredients!
Wafer Bites: Perfect family snack or lunchtime treat. Wafers are covered in milk chocolate.
We were really excited to dig into these snacks. I opened the Cookie Buttons first and was immediately reminded of Cookie Crisp cereal! What a flashback! I loved the crunch!! Even Hannah, our non-gluten-free child, loved these!
I had high hopes for the Chocolate Covered Wafer Bites and I am sad to say that I was not impressed. Maybe it was the combination of chocolate & a wafer cookie? I don't know. The wafer was flavorless and the chocolate had an odd aftertaste. I had several other people (both gluten-free and non-gluten-free) sample these to see what they thought of the bites. They all had pretty much the same opinion that I did.
Ian's products can be found online at Glutenfree.com or in stores across the US. Have you tried either of these 2 products from Ian's? What did you think?
***These products were supplied to me free of charge by Ian's Natural Foods. The opinions stated in this post are mine and have not been influenced by anyone or anything.