364 Days Until Christmas are the words that just came out of Jon's mouth.  Seriously?  He was joking, as both he & Hannah had a very nice holiday.  We had all kinds of awesome gluten-free food, including a new cake that I made from a recipe that I found on Live Gluten Freely.  We found a new recipe for Frosted Sugar Cookies that have to be some of the best I have ever tasted. 
The kids got some really fun stuff – Hannah got Just Dance 2 for the Wii and that is a serious workout!  Nothing like having fun and exercising at the same time!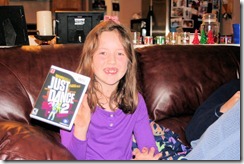 I think this smile says that someone had a nice Christmas.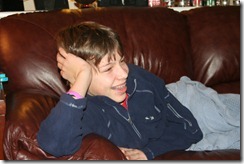 Our menu plan this week will consist of a lot of leftovers and pantry foods, as none of us seem to be able to tear ourselves away from our new toys.  I got a new laptop, which was much needed with as much writing as I do.  Additionally, we have over $150 in Mellow Mushroom gift cards and Jon seems to be addicted to their gluten-free pizza. 
Sunday – Grilled Chicken, baked potatoes, broccoli and salad
Monday – Salmon, basmati rice, asparagus & salad
Tuesday – Mexican pizzas, refried beans, corn & salad
Wednesday –Spaghetti and marinara sauce, eggplant, green beans and salad
Thursday – BBQ chicken breasts, cheesy potatoes, okra & salad
Friday – Pizza and salad
Saturday – Pork & sauerkraut – Happy New Year!
****************************************************************
Make sure to stop back by tomorrow for a new giveaway!!