Yesterday my birthday.  I am 29 + 8 years old.  My mom, Linda, was kind enough to share her birthday with me – Thank you!   I have always loved celebrating my birthday with one of my very favorite people.  Our busy schedules didn't permit us to get together on our actual birthday, so we arranged to celebrate on Friday night instead.  
Our celebration started out at Boston's Gourmet Pizza for some pre-hockey game cocktails.  I considered ordering a glass of red wine, but one I found out they have Redbridge, I changed my mind!  Nothing like an ice cold beer that doesn't make me sick.  As much as I would have liked to order dinner there, we had a hockey game to get to.  Jon's JV team played and unfortunately lost. 
After the game we went to Mellow Mushroom to pick up carry-out.  We just may be keeping them in business these days.  The gluten-free pizza is Jon's favorite. 
For dessert I made a gluten-free carrot cake because I know how much my mom loves carrot cake and it is my favorite next to chocolate.  I followed a recipe from Betty Crocker and even made the frosting from scratch.  The recipe will be shared later this week on Celiac-Disease.com.  Here is a teaser picture….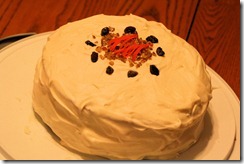 Last night hubby and I went out for a birthday dinner and the kids had a rotisserie chicken – Hannah was happier about it than Jon was.  Jon said I promised him I would never buy a rotisserie chicken again.  Hmm….not sure I remember that.  He has had a weird aversion to chicken lately along with some other pickiness. 
Monday – Spaghetti with marinutta sauce, roasted broccoli & salad
Tuesday –Mexican pizzas, refried beans, corn & salad
Wednesday – Burgers, steak fries, zucchini and salad
Thursday –Mellow Mushroom
Friday  -Breakfast for dinner – frittatas, turkey bacon and fruit
Saturday – Filet mignon, baked potato, steamed green beans and salad
****************************************************************
And now the moment you have all been waiting for – the winners of my Simpli Instant Apricot Oatmeal giveaway!
monica

I liked Simpli on Fb

I like GF is Life on Facebook
Amy Clark
amoeidson@yahoo.com

Marisa H

I followed you on Twitter! (Spaceodditygirl)

Christy

We already like gluten free is life on Facebook. Love the blog!

Alex

I like Simpli on FB! Alex Smith.

Congrats to you all!!  Please shoot me an email with your contact information so that Simpli can mail out your packages!

 

For those who didn't win, check back later today for another cool giveaway!  This next one will have 3 winners.