Have you ever had a gluten-free drumstick?  I am not talking about chicken drumsticks, I am talking ice cream.  You know, the cones that are coated with chocolate on the inside, topped with ice cream, coated in more chocolate & peanuts?  That is what I am talkin' about!  I am not sure what led me to make these, but after receiving some ice cream cone samples last week from Goldbaum's, the idea popped into my head.  I get some of the best ideas at the weirdest times.  I was chatting with my sister on the phone (hands free while driving, of course) and she said something that made me think of Drumsticks.
I had to devise a plan on how to make this work.  I had all of the necessary ingredients, so I got to work once I got home.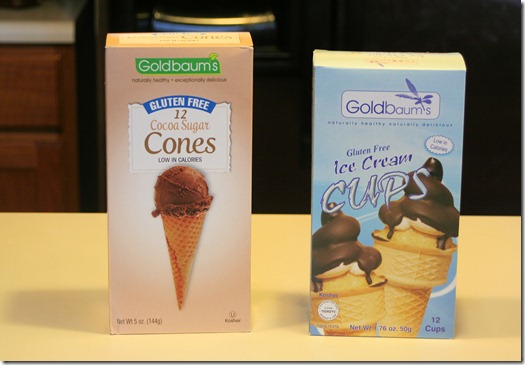 I used the cocoa sugar cones, Edy's Cappuccino Chip Ice Cream, chopped pecans and Trader Joe's Chocolate Syrup.  In hindsight, I think Magic Shell would have worked better and it is gluten-free.  I poured the chocolate syrup into the cone and gently coated the cone using a butter knife.  Then I scooped the ice cream onto the cone.  I drizzled some more syrup on the cone and used a knife to spread it out and then rolled in chopped pecans.  I gently laid the finished product in a bowl and placed it in the freezer to set for a few hours.  Next time I will spray this with Pam to avoid the ice cream freezing to the dish.  Check this out….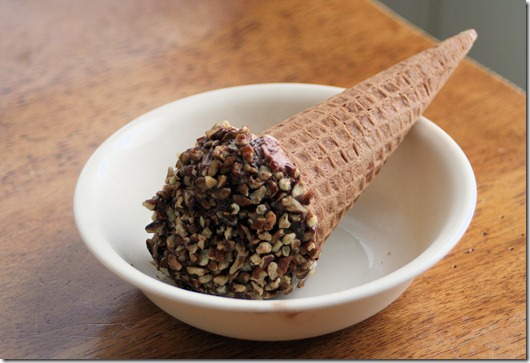 O.M.G!!!  These brought me back to my youth!  It is really a sundae in a cone!!  And, the cones are amazing….they taste just like the cones I remember.  Drumsticks were my treat of choice as a child, though we didn't have them often.  I can't wait to make more!!  Jon asked for a different ice cream in his Gluten-free Drumstick – Vanilla Fudge Twirl.  He loved them and made me promise to not use any of the other sugar cones for anything but Drumsticks.  I agreed and will be picking up some Magic Shell to experiment!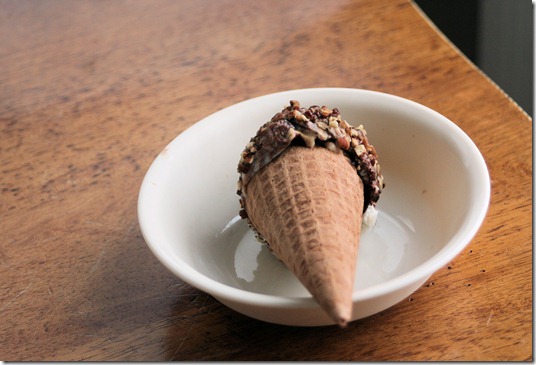 The Goldbaum Ice Cream Cups are very good as well!  Hannah enjoyed eating her ice cream cone the other day using one of the cups.  I tasted the cup and was impressed that it, too, tasted just like the non-gluten-free cups.
Thank you Goldbaum for such an amazing product!  The cones can be purchased on the Gluten Freely website.
***The cones in this post were provided to me free of charge.  The opinions stated in this blog are mine and have not been influenced by anyone or anything.