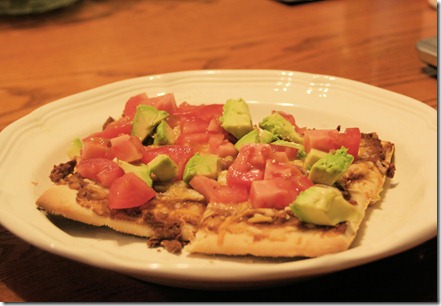 And the Italian version that Jon had: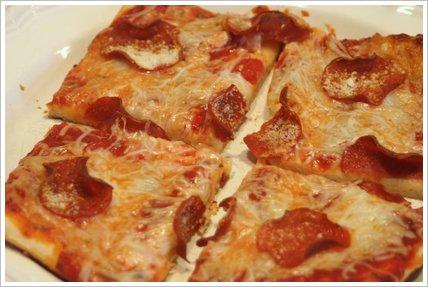 I love the cornmeal dusting on the bottom of the crust, it really adds a wonderful texture to the crust.  These crusts also don't seem to be as sweet as the round crusts were, making them nice to use with savory toppings.  The cost seems steep at $8 – $9/box, but there are 4 personal size crusts per box, which when you break it down isn't all that bad.  Less than $2.25/crust.  The serving size is noted on the box as being 1/2 of a personal pizza.  I ate the whole thing + a large salad.  Calorie wise, there are 248 calories per serving, so 500 for the entire crust + toppings.
Are you wondering why the new crusts are square?  Here is the explanation I found on Kinnikinnick's blog:
"Over the last year I have received dozens (hundreds?) of emails similar the the one that arrived this morning:
"My local health food store keeps telling me that they can't get your pizza crust […] What is the problem?"
Many of you are probably aware of the Donut Saga, which was our struggle to keep up with demand for donuts, our search for equipment and a formulation that would work with the equipment and the response we received to the new donut. Essentially, Kinnikinnick Pizza Crust has suffered from the same supply/demand problem. We simply couldn't make them fast enough. Each crust was formed by hand and baked in small batches. We've known this was an issue for about 18 months and began the process of looking for new equipment which could produce our crusts in a more automated fashion. However, like the donuts, there simply isn't any pizza crust equipment available that would work with our gluten free pizza dough. About 12 months ago, our product development team sat down with our facilities staff and I said,
"OK, let's build our own pizza line…
"From scratch."
All things considered, they took it pretty well.
One of the things that quickly became apparent was that it would be virtually impossible to automate a round pizza crust with our dough. Most traditional wheat based equipment uses a system which picks up the excess dough created when cutting a round shape. Our doughs are simply too soft for us to automate this. We knew our only option was to get "square". We had some concerns about consumer acceptance but we found that a web search for "square pizza" returned almost 60,000 matches. Square pizza is quite common."
Kinnikinnick's pizza crusts can be found in over 5,000 stores!  Click here to find the location closest to you.  There are also 61 restaurants that use Kinnikinnick's products.  Click here to locate those restaurants.  As always, Kinnikinnick offers a flat rate of $10 to ship their products.  Online orders are the perfect chance to stock up.