There are new gluten-free brands popping up all over the place these days.  I have many favorites that I like to stick with, but I can't help branching out to try these new brands, as some are debuting some pretty phenomenal stuff.
We all know that gluten-free pasta is either good or bad, and there really isn't any in between.  Bad gluten-free pasta sticks together if you overcook it, and seems to not hold its shape well.  Good gluten-free pasta can be served to even the pickiest non-gluten-free family members and not even make them flinch until they realize that you are eating the same pasta as they are.  That is the kind of pasta I like to eat.  Jovial is a new brand on the market and their pasta ranks right up there with Schar, Bi Aglut & Tinkyada.  I was able to cook this pasta for the time stated on the package and then bake in a casserole for another 30+ minutes without compromising taste or texture.  Additionally, this pasta doesn't taste bad cold.  I can't eat Tinkyada pasta cold in a pasta-like salad – it seems to change when it is cold into something that is not very appealing to me.  That is not the case with the Jovial pasta.  It is actually good cold!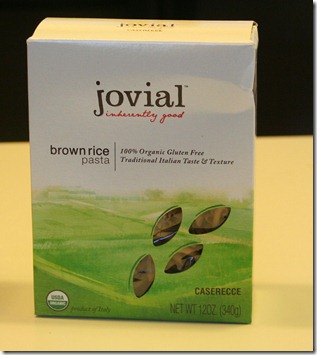 I decided to try this pasta out with a recipe that I found from Rocco Dispirito called "Penne alla Vodka".  You can read more about the recipe in my post over on Celiac-Disease.com, but until you do, here is a picture of the yumminess that this dish was: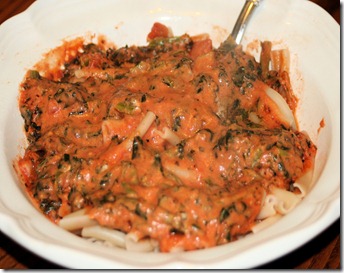 The pasta comes in five different shapes – spaghetti, capellini, penne regate, fusilli and caserecce.  I love funky pasta shapes, so this line is right up my alley.  Okay, enough talk about pasta, onto the cookies. 
*Photo courtesy of Jovial Foods
Did you see what that says?!  "Fig Fruit Filled"  Yep.  Fig Newtons.  I don't even know if I need to say more.  I first read about these cookies when Tiffany Janes, another author at Celiac-Disease.com, reviewed them and I knew that I had to get my hands on a package of them as soon as I could.  Well, I finally found them last week and I was far from disappointed.  These cookies brought me right back to my childhood! Fig Newtons.  There was a time that I was into the flavored varieties of the Fig Newtons like apple or strawberry, but my one true love is the original Fig Newton.  I couldn't believe that I was eating a gluten-free cookie that resembled my love so closely.  Genius!  There was a slight difference in the "crust" of the cookie.  In addition to it being round and enclosed, as opposed to open on the ends, it was a little softer than I remember the traditional variety being, but who cares?!  Not I!  There are 2 other varieties in the Jovial cookie line, but they are overshadowed by the amazingness of the fig cookies!  The other cookies are Chocolate Vanilla Cream & Chocolate Chocolate Cream.  I am sure they are equally as yummy and I plan to pick some up the next time I am at the store, as I know that Jon will like them.  Jon won't touch the fig cookies, which is a big plus for me! 
Jovial Foods not only makes gluten-free foods, but Einkorn products as well, which are not gluten-free.  Since they also make products that are not gluten-free, there are ingredients that are not gluten-free present in the facility.  Please read the following allergen statement from Jovial and more information on gluten-free products at Jovial:
ALLERGEN NOTE

Jovial™ brown rice pasta is certified by the Gluten Intolerance Group at a level less than 10PPM. This product is made in a dedicated facility free of gluten, casein, eggs, tree nuts and peanuts, but may contain traces of soy.

Cookies

Our facility was specifically designed to ensure an absolutely safe product, but it is not dedicated gluten free. We bake with dedicated equipment on separate production days. Each batch is tested and certified for gluten at less than 10ppm.
Gluten Free

If you have been led to a gluten-free diet, you are not alone and you have not gotten there because your body is defective in some way. We were told by a scientist in Italy that has devoted his studies to gluten intolerance that everyone is unable to digest gluten to some extent-some more than others. Achieving high levels of gluten in modern hybrids has been a goal of plant breeders over the last century. It does not seem surprising to us that modern wheat varieties with higher levels of gluten have coincided with a sharp increase in wheat intolerance and Celiac Disease. Gluten is what makes wheat different from any other grain. Gluten is a protein, making up close to 80% of the total protein content of wheat, which gives dough stickiness and is preferred for bread and pasta production. More and more people are eliminating gluten from their diet and an increasing number of individuals are being diagnosed with Celiac Disease. Gluten-free diets have also been used in conjunction with the treatment of other medical conditions, such as Autism, Multiple Sclerosis, Attention-Deficit/Hyperactivity Disorder and Irritable Bowel Syndrome. Others report not having any particular medical condition but feeling better when limiting wheat consumption.

Put simply, gluten sensitivity is caused by the inability to break down wheat protein or gluten during digestion. Large proteins remain undigested in the small intestine, creating inflammation. This creates damage to the walls of the intestines and the inability to properly absorb nutrients. As more and more undigested proteins become present over a period of time, the body's immune system eventually begins to see them as invaders and starts to fight them with an autoimmune response. Years of this hidden internal activity can lead to many symptoms and additional serious health concerns. When symptoms overcome good health, it is time to completely eliminate gluten from your diet. The good news is that restoring and maintaining good health is more important than eating gluten. Eliminating gluten is the only way to heal and if your immune response has led you to a diagnosis of Celiac Disease, you must eliminate gluten from your diet completely. More and more delicious tasting gluten free products are available these days, so maintaining a gluten free diet is becoming less of a sacrifice.

Jovial™ gluten free products were developed out of a heartfelt compassion for all of us who have had a food intolerance critically effect personal health and wellness. We believe eating gluten free should be pleasurable and not feel like a sacrifice. It is not that products formulated without gluten can't taste great; it's how relentless you are in developing them.
Jovial Foods gluten-free products can be found in many health food stores across the US.  Click here to find the closet location to you.  I found the cookies here in Columbus at Raisin Rack.  If you can't find the cookies or pasta close to you, you can order them both online from a few different sources, including Amazon.com.