When I was visiting my sister in Atlanta a couple of weeks back, I went to a doctor's appointment with her and while we were waiting for the surgeon to come in, I noticed a poster on the wall that was diagraming gastrointestinal diseases.  Obviously I was interested in the poster because I am weird like that.  But, I quickly became a little irritated, though, because I couldn't find Celiac Disease on the poster.  It wasn't there.  There were all kinds of other GI diseases listed on the poster – here are just some of them:
Crohn's
Ulcerative Colitis
Gastric Cancer
Ulcers
Pancreatic Cancer
Colon Cancer
Acute Pancreatitis
What, is Celiac Disease not special enough?  Or, is it more of a case that Celiac Disease does not require medicine to treat it, like many of the other conditions mentioned on the poster.  Notice that the poster was made by Protonix, which is proton pump inhibitor, a medication used to treat GERD or gastroesophogeal reflux disease.  Maybe I am a little sensitive because I do all I can to educate others about Celiac Disease and the gluten-free diet.  According to the statistics, 1 in 133 people have Celiac Disease, yet 97% of those people are undiagnosed.  It would seem that if there is a poster hanging up in a medical office that Celiac Disease should be on that poster.  Awareness.  Of course there is not a lot of motivation by the drug companies because they don't currently stand to make money off of people who are diagnosed with Celiac Disease, as the only treatment as of today is a gluten-free diet.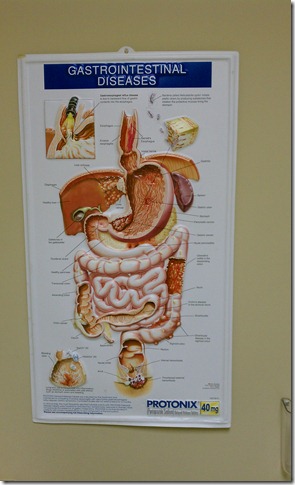 Maybe someday there will be a pill or a vaccine, but not today.  In the meantime, raising awareness is how we can make a difference, and there are so many ways to get involved. 
Simply talking to your friends, family and doctors is probably the best way. 
Help support 1in133's mission to raise awareness about gluten-free food labeling.
Join the mailing list at NFCA – the National Foundation for Celiac Awareness.
May is Celiac Disease Awareness Month!  Educate, educate, educate!  That is my new motto.  The more people that know, the more people that get diagnosed (and no longer suffer), the better it is for everyone!!  If you are dining out and get glutened or strange looks when you mention gluten-free, educate the restaurant and staff.  Make sure to let the management know if you do get sick – this will help others who go in to dine there on the gluten-free diet.  Most restaurants are very willing (and I say most, because we all know that there are those out there that really don't care) to learn and do what they can to make sure you are as safe as can be.  Educate the stores where you shop – ask for them to carry your favorite gluten-free products if they don't.  If your doctor or other medical professional seems behind the times, try to educate them as well and if they are unwilling, move on. 
What are you doing to help spread the word?