Hope that everyone is enjoying Easter (if you celebrate – or Sunday, if not)!  We are having Aaron's parents over for dinner tonight.  We aren't doing ham today because we are making ham for Mother's Day in just 2 weeks.  Instead of ham, I decided on salmon, as everyone loves it (except Jon and I will make him another protein).  Mary is making dessert – rumor has it that it is a Butterscotch Pie with a gluten-free pie crust courtesy of Whole Foods.  I thought I would share a few other Easter or holiday recipes here today for those who may be interested.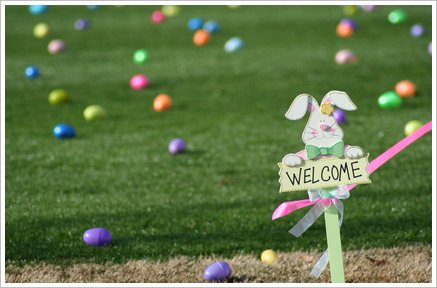 We are pleased that the rain let up a little yesterday for Hannah to attend an Easter egg hunt with her friend.  There was still plenty of mud, though.  She came home with mud all up the back of her pants – most likely from running through the muddy fields.  Oh, to be a kid! 
---
Here is our menu plan for the week:
Sunday – Salmon, coconut baked brown rice, roasted asparagus & salad
Monday – Bison Burgers, sweet potato puffs, broccoli & salad
Tuesday – Burritos, corn & salad
Wednesday – Spaghetti and turkey meatballs, green beans & salad
Thursday –Breakfast for dinner and fruit salad
Friday – MYOP – make your own pizza and salad
Saturday – leftovers or take-out
---
Weekly Recap:
Review: Simply…Gluten-Free Desserts
Gluten-free Dessert Tour May 14, 2011 in Columbus
Hope you all have a great week!
Kim