As I mentioned in this post, I have become meticulous about my food the day before and the day of my long runs in preparation for my half marathon.  I have been eating the same thing the day before my long (Saturday) runs for almost a month now to make sure that my stomach agrees with what I have chosen.  So, beginning this morning, probably right as this post goes live, I will begin eating the following.
Breakfast
Large bowl of mixed fruit – I use whatever is in season, but lately it has been cantaloupe, pears, apples, blackberries, raspberries, strawberries & kiwi.
2 Quaker Rice cakes with Marnantha almond butter, fruit spread & raw cacao nibs
coffee with Silk Pure Almond (2 cups)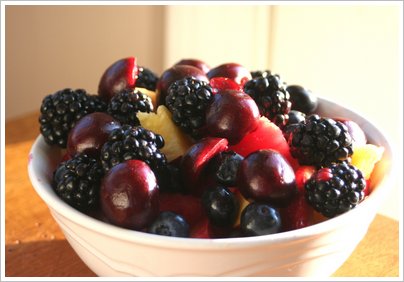 *Example of my fruit bowl, but from last summer.  Man, I wish watermelon, peaches & cherries were in season right now!
Lunch
Spinach salad w/grape tomatoes (not the recalled ones…YIKES!) and Kraft Fat Free French dressing
Tuna melt on Trader Joe's French Roll
Veggies on the side (probably sauteed zucchini, as that has been my go-to choice for the past few weeks)
Starburst Jelly Beans (a girl needs her carbs the day before a race, right?)
Dinner
Pizza on Udi's Gluten-Free or Kinnikinnick crust – toppings will be roasted tomatoes, mozzarella and a couple other roasted veggies (carrots & mushrooms) & finished off with avocado
Salad – not as big as my normal "kitchen sink" salad that I have nightly for dinner, as I don't need to overly stuff myself with raw veggies (if you know what I mean)
Bowl of ice cream topped with chocolate chips & raw cacao nibs (again, a girl needs her race day eve carbs!)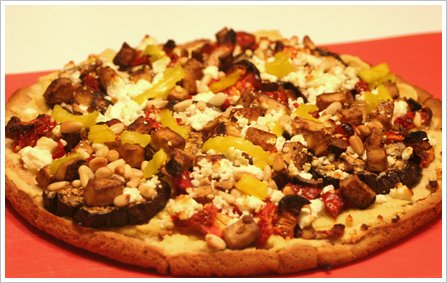 That should do it!  I should be nice & fueled for my race after consuming all of that food. 

  I also have a habit of stuffing my face with raisins or dry cereal when I am preparing meals, so there is no telling how much of that I will consume.  I will also be drinking plenty of water to make sure that I am hydrated well.
Wish me luck! 
---
Don't forget to enter my giveaway to
win a copy of Amy Green's Simply Sugar & Gluten-Free cookbook
! The contest ends Monday, May 9, 2011 at midnight! 
---
Want to ask gluten-free guru, Danna Korn some questions about the gluten-free diet and/or Celiac Disease? 
Click here
and submit your questions!