Happy Mother's Day to all of the wonderful mothers out there. 
I would like to take this chance to wish my mom, the best mom in the world, a very Happy Mother's Day.  I am blessed to have such a caring & loving mother who is also one of my best friends (my sister is my other best friend).  I am so grateful to her for all that she has done for me in the past and continues to do for my family and me.  It takes a very special person to be the kind of person that she is.  She is one of the most patient people that I know.  I only wish that I could have a quarter of the patience that she has.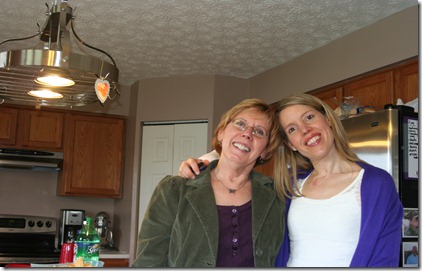 I love you, Mom! 
---
Now, I am off to prepare a yummy gluten-free breakfast of eggs, hash browns, fruit & toast for my mom.  Okay, maybe Aaron will make it because that is what he does – it is his thing.  He loves to make a big breakfast when we have company in town.  Love him!
---
A quick meal plan for the week:
Sunday – Leftovers from our get together on Saturday or take-out – Mama is not cooking!
Monday – Bison burgers, sweet potato puffs, asparagus & salad
Tuesday –Spaghetti & marinutta sauce, steamed broccoli & salad
Wednesday – Turkey tacos, corn, black beans & salad
Thursday – Bourbon Chicken, brown rice, sugar snap peas & salad
Friday – Pizza – make your own and salad
Saturday – Leftovers, rotisserie chicken or take–out
Have a wonderful week! 
Don't forget to enter my giveaway to win a copy of Amy Green's Simply Sugar & Gluten-Free cookbook! The contest ends Monday, May 9, 2011 at midnight! 

---
Want to ask gluten-free guru, Danna Korn some questions about the gluten-free diet and/or Celiac Disease? 
Click here
and submit your questions!