Have you have the pleasure of trying Garden of Eatin's blue corn tortilla chips?  If not, you are missing out.  These chips are some of my favorite for making nachos, dipping in guacamole or just eating alongside a taco salad.  They hold their crisp and don't become soggy; they have just the right amount of salt and they are non-GMO and have no artificial flavors, colors or preservatives.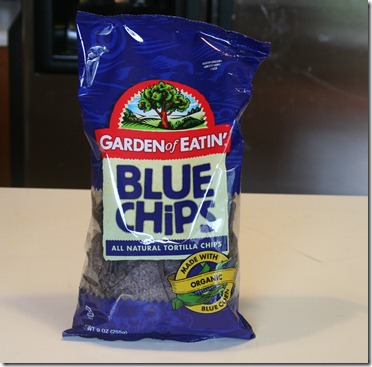 The Summer of 2011 brings several new products to the Garden of Eatin' line.  Those products include a blue tortilla chip with a sprouted grains combination of brown rice, lentils & quinoa and sweet potato tortilla chips.  Both of those new varieties sound intriguing to me! 
More about Garden of Eatin':
How could something that tastes so good…be so…natural?
Garden of Eatin'® was founded almost 35 years ago by Al Jacobson, a visionary who was always several steps ahead of his contemporaries. He first toyed with the idea of becoming a vegetarian in the early 1900s when as a toddler living on a farm in Pennsylvania, he discovered the family ate his favorite playmate, the chicken! Fast forward to the 1940s when he dabbled in yoga, metaphysics and became a traveling product demonstrator for Hain Pure Foods, an organic company on the West Coast.

In the early 1970s, Al let his spiritual side guide him to start his own health food company – Garden of Eatin'® with the launch of Bible Bread, organic whole wheat pita. Then in 1986, after he followed his natural health instincts and purchased tons of organic blue corn, Al decided to produce Blue Corn Chips. In keeping with his unorthodox approach, the chips were launched at a major fancy foods show and they took off! Since then, Garden of Eatin'® has introduced over 20 varieties of all natural tortilla chips, each of them true to Al's inspiring outlook on life and healthy snacks.

In 1998, Garden of Eatin'® became a part of The Hain Celestial Group, Inc., a natural and organic foods company that's been providing A Healthy Way of Life™ since 1993.
Not all of the products made by Garden of Eatin' are gluten-free, so take care to read the package information.  Here is the information I found in the FAQ regarding gluten:
Many Garden of Eatin' products are made without gluten or gluten-based ingredients, and are not tested for gluten. We suggest reviewing the product ingredient list to make sure that a specific product is right for you. Our company, The Hain Celestial Group, does make a variety of products under other brand names that are tested to be gluten free. For a complete list visit www.glutenfreechoices.com.
Garden of Eatin' products can be purchased at stores across the US or online.  Click here for a store near you and here for a $1.00 off coupon. 
***The chips I reviewed in this post were provided to me free of charge for this review.  The thoughts & opinions stated here are mine and have not been influenced by anyone or anything.