Yes, I typed "sunny".  The sun has now peeked out 2 days in a row!  Unbelievable and much appreciated!  It is amazing what a little natural vitamin D does for the spirit. 
I hope that everyone is safely enjoying their long Memorial Day weekend.  Don't forget to take this time to remember those that we have lost that have given their lives to serve our country and to thank those that are currently fighting for our country.  They are some of the most selfless people and we should never take that for granted. 
This weekend has been about relaxation for us.  We had a long day on Friday, as we took a road trip to Cleveland for my Uncle Ken's funeral.  He passed away unexpectedly at the beginning of last week.  Uncle Ken served in the Vietnam war and having the military present and participating in his funeral service at the cemetery is something I will never forget.  You may have seen me mention Uncle Ken here in the past, as I used him as a true test to see if a gluten-free food or baked good passed "the" test.  You see, he was a very picky eater and if Uncle Ken liked it, you knew it was good!  He will be sorely missed.  R.I.P. Uncle Ken. 
---
Sunday – Taking Mary (mother-in-law) our for a belated b-day dinner
Monday – Pasta with "orange" sauce, steamed broccoli & salad (I will have a blog post on the sauce later this week)
Tuesday – Burritos (Food for Life Brown Rice Tortillas), black beans, corn & salad
Wednesday – Pulled Pork w/ Sweet Baby Ray's BBQ sauce, baked beans, roasted asparagus & salad
Thursday – Leftovers
Friday – MYOP (Make your own pizza on Udi's Gluten-free crusts)
Saturday – Bison burgers, steak fries, roasted carrots & salad
Oh, and I wanted to share my lovely bowl of fruit from my breakfast this AM…..I love fruit!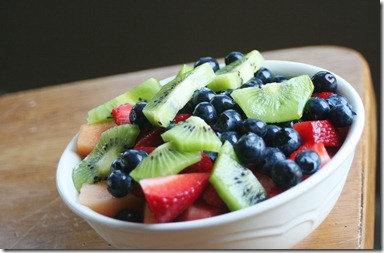 ---
Lots to recap from the past week in the Celiac/Gluten-Free world:
Another Forbes blogger made up for it
Good article on Foodfacts.com about the gluten-free diet
I reviewed GoPicnic's Tuna & Crackers
Betty Crocker announces a baking contest – prize is $5,000.
Cheeseburger in Paradise adds gluten-free buns at all locations in June
Book Review: Sweet Vegan by Emily Manquist
Still Riding Pizza crusts – the crust of Mellow Mushroom
Raisin Rack to hold gluten-free lecture
Cameron Mitchell restaurants expand their gluten-free offerings.
---
And, while this isn't really "gluten-free" news, I am and it pertains to me….LOL!  My training for the 32nd Nationwide Columbus Half Marathon has officially started!  YAY!  In fact, I need to get moving and hit that pool!  Time to get in some cross-training.  Swimming has been doing wonders for me lately and I am really glad that I took the time to work on it last summer, grouchy as I was about it at the time.