Do you often feel like you have no time?  I know that I can have a nice meal plan all laid out (and shared here) at the beginning of the week and then all of a sudden I have no time.  Things pop up and my plan goes flying right out the window.  Meetings at school, last minute store runs, etc.  Enter: Tyson Grilled & Ready Strips.
These fully cooked, frozen chicken strips are great to keep on hand for quick lunches or dinners.  They can be heated up in a saute pan or microwave in minutes, it is best to undercook at first.  It is important to note that if you overcook them, they can be used as weapons.  We tried these in several different ways – on a salad, in corn tortillas, in pasta sauce, on pizza and in a stuffed baked potato.  Hannah didn't care for them, but to be fair, I may have overcooked them.  I was careful each time after the first time to undercook and then heat in small time increments.  I especially liked them in my stuffed baked potato.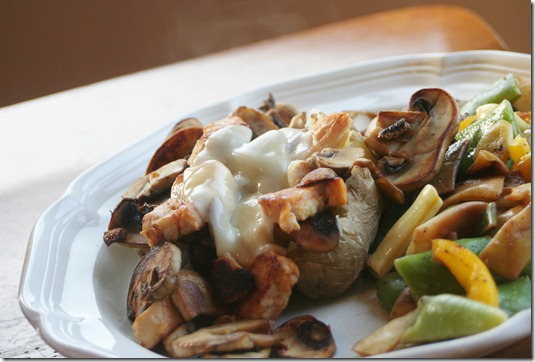 In the potato:
Tyson Grilled & Ready Strips
Sauteed mushrooms
Provolone cheese
Frank's Red Hot
On the side:
Trader Joe's Duo Romano Beans (these rock!)
The strips are available in most grocery stores across the US.  Only the strips are gluten-free – the grilled whole chicken breasts are not gluten-free. 
Have you tried these chicken strips?  If so, what did you think? 
***The chicken strips reviewed in this post were provided to me free of charge courtesy of Foodbuzz & Tyson.  The opinions stated here are my own and have not been influenced by anyone or anything.