When Baked Classics asked if I wanted to sample their chips, I jumped at the chance!  Is the sky blue?  Well, is it blue in most places?  LOL!  They quickly sent me all three varieties of their chips to sample.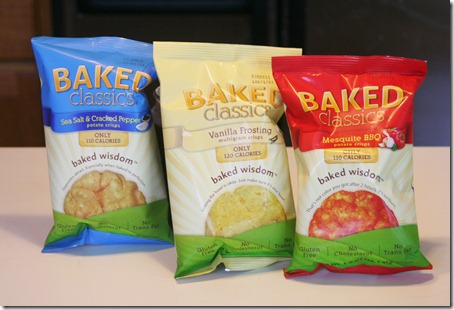 Do you see the middle bag?  Vanilla Frosting chips?  Of course I busted open that bag as soon as I saw it.  What an amazing treat!!  The other varieties were equally as good.  The Sea Salt & Cracked Pepper was a little spicy, but has a great flavor.  The BBQ is spot on without being overly seasoned.  Well done! 
More about Baked Classics:
SAVORY SNACKS WITHOUT AN OUNCE OF GUILT. Baked Classics® popped potato and multigrain crisps are packed with flavor, not fat. These oh-so-satisfying crisps are made with all natural potatoes, whole grains and seasonings, then popped. The result? A snack that's just what you've been craving and a healthy alternative that won't leave your palate feeling the least bit deprived.

More taste. Less waist. Baked Classics have always been and will always be all natural:

No cholesterol
No trans fat
no saturated fat
no preservatives
No MSG
No high fructose corn syrup
Kosher certified
Gluten free
Practical and satisfying portion sizes

With three mouth-watering flavors, the scale is definitely tipped in your favor.

BAKED CLASSICS® POTATO CRISPS

Sea Salt & Cracked Pepper: A spin on the well-known potato chip, this 110 calorie snack is the perfect marriage of salt and pepper.

Mesquite BBQ: Now, with 10% less sodium than the original barbecue and only 110 calories, this traditional flavor is sure to spark memories of your annual family cookout.

BAKED CLASSICS® MULTIGRAIN CRISPS

Vanilla Frosting: Creamy vanilla frosting with just the right amount of sweetness. Feel free to indulge without fear.
I have been eating the Vanilla Frosting chips for dessert!  They remind me a little bit of cereal without being too sweet. 
The chips can be purchased on Amazon.com for $18 for 24 1oz bags. 
Have you tried the Baked Classics Chips?
**I received the chips in this review free of charge.  The opinions expressed here are mine and have not been influenced by anyone or anything. 
---
Don't forget to enter the Betty Crocker giveaway!!  It ends Tuesday at midnight EST!