When I was training for my marathon/half marathon this spring, I got into the habit of eating the same thing every Friday night.  This is the night before my long run, so the idea is to get into a routine so that I can see if my body agrees or disagrees with the food that I am fueling with.  It is a delicate balance.
When I found a sale on Udi's gluten-free pizza crusts, I pick up several packages.  Each package contains 2 crusts, so that would last me a while.  Here are some of the recent creations I have come up with:
Chickpea, spinach, roasted grape tomatoes & provolone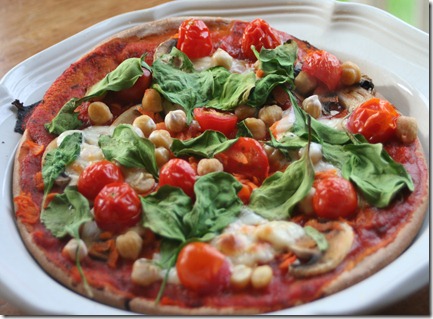 Eggplant parmesan pizza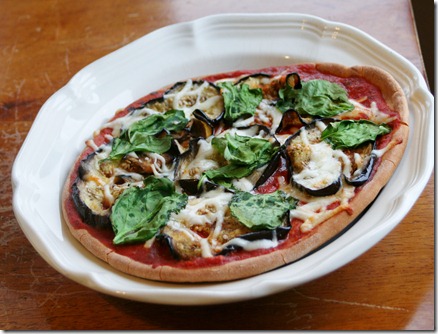 Unpictured ideas:
Mexican – refried beans, cheddar, tomatoes, jalapeno, lettuce & avocado on pizza crust
Super Veggie – adding shredded zucchini, carrots, mushrooms, black olive, banana pepper and mozzarella
BBQ chicken – bbq sauce, rotisserie chicken, thinly sliced potato & a sprinkling of cheddar
I pair all of my pizzas with a salad.  I can usually polish off a large salad and an Udi's size crust. 
This is a wonderful way to get creative with your food – the pizza crust is a blank canvas – create until your heart is content!!  The beauty of the Udi's crusts is that they can go right from the freezer to the oven and can be ready in under 15 minutes.  It doesn't get much simpler than that. 
Do you have a favorite pizza that you make at home?  My kids go for marinara (we usually use Three Cheese Prego) and mozzarella and if they are feeling adventurous, pepperoni. 
---
Check back later today for the winner of the
Betty Crocker
giveaway!