This post has nothing whatsoever to do with gluten-free food,  but I am gluten-free,  so there you have it.

Once I find something that works for me,  I am extremely loyal.  When I first started running,  I was told,  heard & read that I should buy "running" socks.  I thought I already had them,  you know,  the Nike or Adidas socks that I had purchased at Kohl's with my 30% off coupon.  I didn't need those expensive socks that they sell at the running specialty store,  the ones that cost $10+/pair.  Boy, I was sorely mistaken.
After several runs with my socks falling down in my shoes,  having to stop to fix my socks,  my feet sweating , etc,  I began to understand why these so-called "running" socks were maybe a better idea than I originally thought they were.  Off I went to Fleet Feet to enter into the world of running socks (and lots of other expensive,  but "must have" running paraphernalia").  I believe that at this point I should own stock in Fleet Feet,  but that is another post. 

The first pair of running socks that I purchased ending up working out very well for me and they are the only socks that I will run in today.  They are Balega running socks.  Here is a little bit of background on Balega:
Balega comes from South Africa.
The word is Zulu and has no literal translation, but means "to move with speed"
I have tried other running specific socks and keep coming back to my beloved Balega socks.  The others either didn't stay put,  hugged my feet too tight or separated my toes and my toes like to be next to their buddy toes.  Over the past 2-3 years that I have been running, I have become the proud owner of more pair of Balega socks than days of the week.  I have them in many colors,  too!  There have been days when I have had to sub another pair of socks for a run for some reason or another and they just don't feel nearly as good,  so I usually go out and purchase another pair or 2 to make sure that never happens again.  The only blister I have ever gotten while wearing these socks occurred the day we ran 16 miles in a monsoon back in March of this year.  We were literally running through ankle keep water at times.  I don't blame the socks,  I blame soaken wet feet.  I have run over 1500 miles in Balega socks and hope to run 1500+ more in them!  My current favorite pair: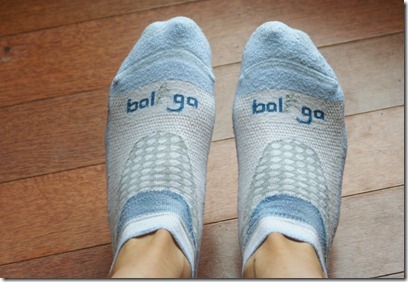 Do you have a pair of socks that you swear by?