This past week we had an unexpected trip to the hospital.  Hannah fell while playing outside in flip flops and ended up breaking her arm in 2 different places.  She had to have surgery on Thursday and 3 pins put in to help her arm heal.  Check out the before X-ray below.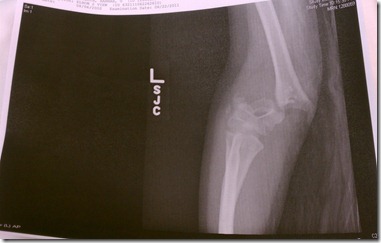 If there had been any doubt in our minds, and there hadn't been, there certainly wasn't after seeing this.  The after picture with the pins: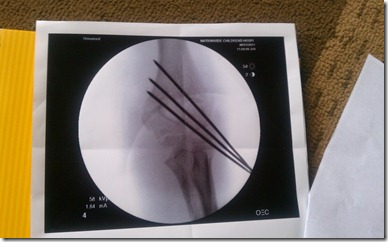 She is now in a cast and sling for the next 4 weeks.  At least we already got our vacation out of the way earlier in June. 
While we were at the hospital, I needed to eat several meals.  My first trip to the cafeteria proved to be sufficient, as I was a basket case and wasn't able to eat much.  There was a corner that said "Gluten-Free Zone", but was poorly stocked with a few Schar cookies and a single NuGo Bar.  There was a board that advertised gluten-free bread, bagels, etc upon request, so I set off to investigate.  Turns out all they had was a couple of frozen chocolate muffins that were more like a dessert than breakfast or lunch.  I have to tell you that I was a little disappointed in this, as why bother advertising a "Gluten-Free Zone" and the above mentioned items if you don't stock them?  There were other gluten-free items such as Rice Chex, fresh fruit, peanut butter, eggs, etc.  I picked up the one only NuGo Bar, a very green banana, coffee and Rice Chex.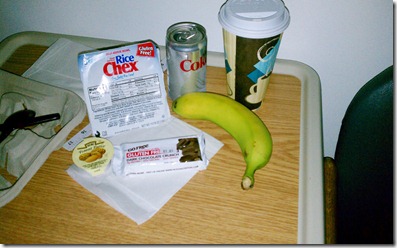 I tossed the bar in my purse for emergency purposes.  I normally keep my LaraBars or Luna Protein Bars in my purse for times like this, but had removed them so they wouldn't melt in the heat.  Figures, right? 
Lunch time rolled around and Hannah was in surgery.  Though I wasn't hungry, I knew that I needed to eat.  I once again headed to the cafeteria.  The bar was my back up, as I wanted something "real" if I could find it.  I ended up getting a baked sweet potato and salad from the salad bar.  They had a lot of options on the salad bar, but I stuck with the ingredients that weren't close to any gluten ingredients.  I looked for yogurt, but they only had Dannon and Dannon doesn't claim any of their yogurt is GF except the plain.  I stuck with my salad & potato and Diet Dr. Pepper.  I don't normally drink pop (soda), but I was tired of coffee and they didn't have caffeine IVs offered on the menu. 
Since the fall happened at 8:30 PM, we were up all night and surgery wasn't until 11 AM the following day.  It was some bizarre miracle that I was still functioning at this point.  I snacked on some Sour Skittles to keep my mind off of Hannah being in surgery – another rockin' choice, right? 
Good news is that we are home now.  Hannah is still in a lot of pain, but improving slowly.  We got her hair cut yesterday so that taking care of it would be easier, as she can't get the cast wet at all.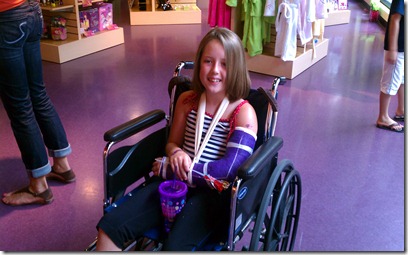 On another note, it was so hard to not break down in front of Hannah.  I was terrified for her, but couldn't let her see that.  As soon as they wheeled her back for surgery, I broke down.  The staff was wonderful on keeping us posted about Hannah's progress and taking care of her.  I just wanted to take the pain away from her. 
Now we are playing lots of board game and watching movies.  Found out one of Hannah's good friends had broken both of her wrists recently and is also incapacitated, so they can spend some time together & commiserate.