Okay, maybe I am behind the times here, but I had no idea that Old Navy had decent running clothes.  Here I am paying lots of money for running shorts & skirts and I just picked up the most comfortable pair of running shorts at Old Navy today for $10!  The shorts normally retail for $15.99, but were on sale.  I bought them in black, but they came in numerous other colors as well.  I probably didn't need another pair of running shorts, but I had a Groupon for Old Navy and aside from a 4th of July tank, nothing else was really catching my eye.
Today is my "long run" day, so I figured this was an appropriate day to post my review of the shorts.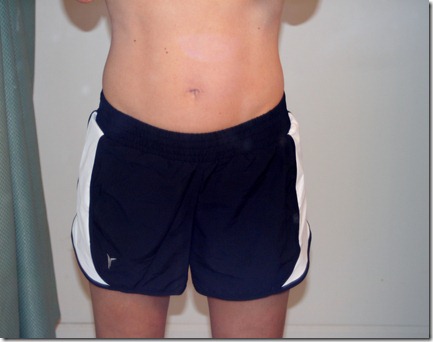 Yes, I have a sports bra on, so get your mind out of the gutters.  I love the wide elastic waist band on the shorts! I seem to have such a hard time finding shorts that I like they way they sit on my waist.  These are perfect!
Now, the real test, how do they preform?  I wore these for my interval run on Thursday morning at the gym.   Not only did I run, but I lifted weights before my run.  These shorts do have a built-in pair of undies, something that did take some getting used to (when I first started wearing shorts with them – not these).  I now prefer my running shorts to have the built-in undies.  These shorts stayed in place without moving much at all; they didn't fall down, the undies didn't creep up.  Even though I was really sprinting through these intervals, these shorts stayed put!  A+++  I think that I need to make a trip back to Old Navy to pick up a few more pairs of these shorts.  The next test will be a long run to see if they cause any chaffing.  I think that I will be fine, as nothing seemed to bother me in the least bit while running.
I saw Dr. Bright on Monday for my right foot.  It isn't hurting when I run at all, but since we were at the beach, it has been a little achy throughout some days & my toes will occasionally get numb.  He worked his ART magic on my foot and it felt a lot looser.  I asked what was going on…was I doing something wrong?  Was I running too fast (insert giggles here)?  He said it was likely related to the stress fracture I had last year – just the muscles getting tight.  Apparently the muscles have a memory & tend to get tight like they "remember" being.  Nice, right?  I asked what we could do to prevent this and he said there were a number of things we can try.  He was encouraged that I don't have pain when I run (as am I).  For now he just did ART (active release technique).  We can try custom orthotics if it continues or some other stuff that we didn't talk about.  I am all for a new right foot, but I don't think that was included in the options he mentioned.  In all seriousness, I am thankful that I am able to run and don't ever take that for granted.
I hope you all have a fun & safe holiday weekend!