Not too long ago I took advantage of a Groupon for Rock Dove Farm – I paid $9 for $25 worth of vegetables!  Technically,  I paid nothing because I had a credit on Groupon for referring friends – SCORE!  Nothing tastes better than free,  local summer vegetables,  except maybe those grown in your own garden.  I have issues with my garden,  as I wrote about here.  Though,  I may be closer to figuring out my mystery.  I'll get to that in a bit.  Now,  back to Rock Dove Farm. 
Rock Dove Farm is located in West Jefferson, Ohio.  I visited their booth at the Worthington Farmer's Market a couple of weeks back to check out their selection.  The nice guy working that day informed me that I may want to hold off on using my Groupon to get the best selection of vegetables.  The Groupon is good through July and he said the selection would be much better in July than in the beginning of June,  when I was at the market.  Good deal!  I was just peeking at their vegetable selection today to see if I wanted to use my Groupon yet.  Some of the vegetables that I would like to get are:
arugula
tomatoes
kale
peppers
cilantro
carrots
cucumbers
eggplant
oregano
sweet corn
All I have to do is let them know in advance what I would like to order and pick it up at the Farmer's Market.  Simple! 
---
Now,  back to my garden.  My mystery plants are growing and I think they may be cucumber and eggplant.  The newest photos of them (pay no attention to the weeds….on my "to-do" list for this weekend):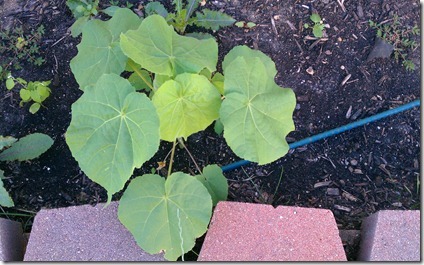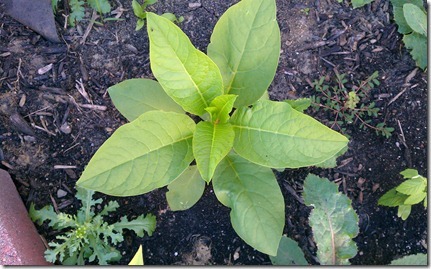 I don't know whether I am more excited about the veggies I will get from these or the surprise of finding out what the heck they are!  LOL!
---
So, what vegetables are you looking forward to this summer?  Do you grow any vegetables yourself?  If so,  what?
  Best thing about fresh vegetables is they are
naturally gluten-free
!
Kim