A few weeks back I received some mixers from Top Shelf Mixers to review.  The Top Shelf Mixers come in seven different varieties, though I am only going to review one here today.  All of the varieties are gluten-free.  More about Top Shelf Mixers:
Top Shelf Mixers was founded by Paul T. Dunning in 2005 when he recognized a neglected niche in the non-alcoholic cocktail mixer industry. He observed that although premium and super premium spirits had revived the stagnant cocktail market, the cocktail mixer industry had made no significant response. Cocktail mixers continued to be thick, synthetic mixtures of corn syrup and artificial chemicals. He noticed while some companies tried to make improvements they lacked the unique insight he could offer.

Dunning realized that there was a pent-up demand for better cocktail mixes, and that this potential market was largely being ignored. He spent three years developing recipes, and founded Top Shelf Mixers Inc. in March 2007 to produce the next generation of perfectly balanced ultra premium cocktail mixers.

Too much or too little sugar or acidity can easily ruin any cocktail. Top Shelf Mixers delivers a superior taste experience by complimenting the premium spirits instead of overwhelming them. Our product is the best because we create perfectly balanced cocktails!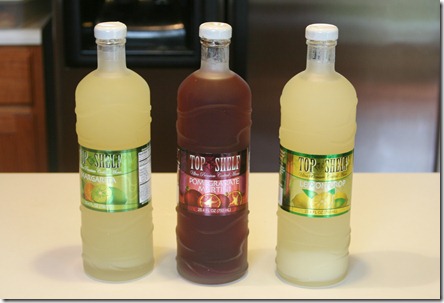 I usually keep a bottle of Stoli's vodka in my freezer for times when I have something just asking to be mixed with it.  This time happened to present itself when I had a long day & the bottle of lemon drop was properly chilled in the refrigerator.  I mixed 1 part Stoli's to 2 parts lemon drop mixer and served over ice.  It was nothing short of fantastic!  The description that Top Shelf has written below just about sums it up! 
Top Shelf Lemon Drop mix uses the perfect balance of fresh lemon juice and cane sugar. This is because it is so important for the mixer to not over power its premium vodka partner. This refreshing cocktail goes down easy and tastes fantastic!
I am saving the other 2 mixers that I received to sample: Pomegranate Martini & Margarita for a cookout we are having in August.  I will make sure to pass along my thoughts after we have sampled them both.  Top Shelf Mixers can be found in stores in Colorado or purchased online.  They even accept Paypal!
**The products reviewed in this blog were sent to me free of charge to review.  The opinions stated here are mine and have not been influenced by anyone or anything.