The other day I posted a "teaser" photo of the bread that was delivered to my doorstep.  I didn't want to keep you all waiting for too long, so I got right down to testing the bread in a couple of different ways.  The first way involved an indulgence of sorts.  I was feeling like I needed a chocolate fix, so I created a new sandwich.  Can you guess what it is?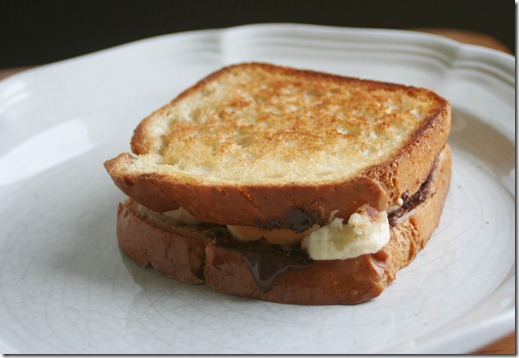 Dark Chocolate Dreams peanut butter and banana grilled like a grilled cheese sandwich.  I know that Elvis used to eat grilled PB & banana sandwiches, but I don't think he ever used chocolate PB.  For some reason this almost tasted like a donut filled with chocolate filling, I am not quite sure why.  I don't think I was aware of anything going on around while I ate this sandwich – it was that good!  The bread held up well to grilling and is a tad bigger than some of the other popular gluten-free breads on the market.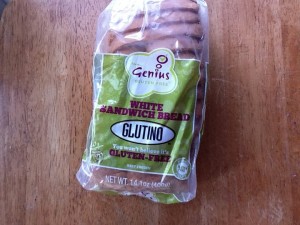 The next day I decided to make a sandwich using the bread as-is, or untoasted.  I made a deli turkey with cheddar, relish & lettuce sandwich.  This sandwich wasn't as good as the grilled sandwich I had the day before.  The bread did not hold up well at all in its untoasted state.  It easily broke apart and made my sandwich difficult to eat.  The texture is really light, so it almost seemed like there was nothing to it. 
After sampling the bread both ways, I absolutely recommend toasting or grilling it.  This isn't a big issue for me, as I rarely pack sandwiches to go anywhere.  I haven't tried toasting the bread, making a sandwich & then packing for lunch later in the day yet, so I am not sure how that would hold up.  I suspect it would be much like the toasted version, but not warm.  I look forward to making French toast & grilled cheese sandwiches with it this coming weekend.
More information about Genius bread from Glutino:
Glutino's newest gluten-free bread.
Glutino has partnered with the UK's popular Genius Gluten-Free, adding
their delicious bread product to Glutino's long-standing gluten-free portfolio.
Genius by Glutino is a sandwich-ready loaf of bread that is available in White
Sandwich Bread and Multigrain Sandwich Bread. Available for a great value,
Genius by Glutino tastes so good, it doesn't even need to be toasted. People
looking to live a gluten-free lifestyle can now enjoy full slices of gluten-free
bread with Genius by Glutino.
There are 2 varieties of the new bread – White Sandwich Bread & Whole Grain Bread.  The bread should be available nationwide beginning in August for $5.49/loaf. 
---
Reminder
–if you haven't entered the giveaway to win a
$25 Walmart gift card
,don't forget to do so! 
Ends tonight at midnight!