Last week I shared a post on my training for my upcoming half marathons.  I am pleased to share that I have been diligent about sticking to my training and cleaning up the food that I put in my body.  There has been no ice cream.  I realize that is a travesty, but I have really been trying to replace those calories with healthier ones.  I have cut out the wine/alcohol unless I have a rest day scheduled the following day; it is too hot & humid and dehydration is a real concern that is not to be taken lightly.  Alcohol & caffeine can dehydrate you, so while I still enjoy my morning coffee (much to the benefit of everyone around me), I can't do the nightly glass or 2 of wine.
I get up at 4:30 AM during the week to hit the gym before my busy day gets started.  I don't generally eat before I go to the gym – my stomach does much better without food when I am working out.  I do eat before any run of 6+ miles and that is usually a bowl of Kix.  This is what works for me and may not work for everyone.  After I run, swim or lift weights, I head home & quickly shower.  Breakfast & coffee quickly follow.
Below is an example of a day last week.
Breakfast
2 Van's gluten-free waffles topped with Stonyfield Organic Activia and berries with a side of Lemon Drop melon.  (2 large cups of coffee with Silk Pure Almond & water are unpictured)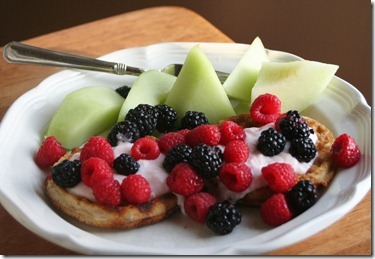 Lunch
Grilled dark chocolate PB & banana sandwich, spinach salad w/ French dressing and a mini Larabar for dessert.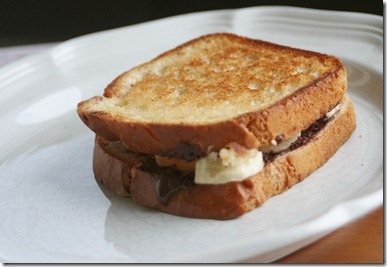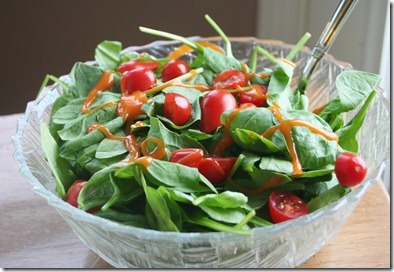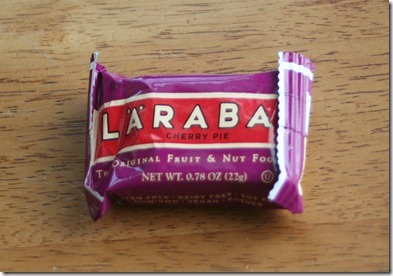 Snacks
I have been trying to pay close attention to my hunger and eat before I am hungry enough to eat my own arm off.  I will often be in the fridge grabbing fruit – mostly cherries.  If I sit down with the bag of cherries, I often finish it, which can lead to a very sick feeling that I don't wish upon anyone.  Now I try to grab a bowl and place what is reasonable in the bowl.  Yogurt, cottage cheese, Silk Pure Almond and nuts are other favorites.
Dinner
Okay, know you have all seen some pretty funky combinations from me before, right?  Buckle up, because this may be one of the oddest combos yet!  Andrea from Food Embrace was on Twitter chatting about eggs for dinner and I knew that I had to have eggs that night.  I also knew that I wanted a sweet potato in some form, so why not combine the 2?  I made hash browns out of my sweet potato, fried eggs, grabbed some fresh steamed green beans from the fridge and then made a big 'Bowl O' Breakfast'.  I topped my bowl with sliced avocado and Dos Pistolas jalapeno mango salsa.
I also had a large salad that I didn't take a picture of because I was too excited to eat my 'Bowl O' Breakfast'.
Dessert
Dessert has been healthy – fresh fruit, a square of dark chocolate or the like.  I find it is easier to avoid ice cream all together than to occasionally indulge.  I can see hitting a frozen yogurt place, but keeping it in my house means I will have a bowl after dinner each night regardless of how full I am.  I can be making much better use of those calories with quality nutrients in my meals.   Now, once my races are over, bring it ON!
This is just a sampling of one day last week.  I plan on doing this once a week or so.  This won't only help me pay closer attention to eating quality foods, but may help you all as well.
Kim