Welcome to August!  I can't believe that it is that time of year again, the time all parents wait for – BACK TO SCHOOL!  My kids go back in 23 days, but who is counting?  Jon will be a sophomore and Hannah a 4th grader.  This makes me feel old.  How can I have a son that is in 10th grade?!  Where is my baby boy?  This is Jon 15 years ago: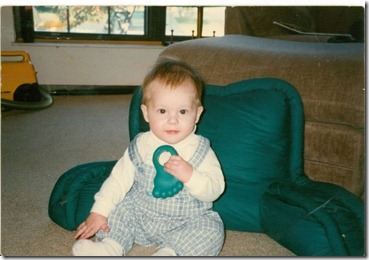 Now he is talking about getting his temporary driver's license in approximately 2 months.  Talk about a fast way to turn a mom's hair grey!  Hope he passes his test the first time, something his mother, grandmother, grandfather & aunt all failed to do.  Yes, that is right, my parents and sister, along with myself, all failed our driver's tests the first time around.  Enough chatter, on with the menu!
---
Sunday – Salmon, brown rice, steamed veggies & salad (got some Coho wild salmon on sale from Whole Foods last week – it was excellent)
Monday – Rotisserie chicken, roasted beets, turnips & sweet potatoes and salad
Tuesday – Tacos, refried black beans, corn & salad
Wednesday – BBQ pulled pork sandwiches, roasted zuchinni, baked potatoes & salad
Thursday – Breakfast for dinner – waffles or pancakes, fruit & turkey bacon
Friday – Make your own pizza
Saturday – Grilled chicken & burgers, baked beans, corn on the cob and fruit salad
---
Weekly Recap:
Molly Woo's new gluten-free menu impresses
Does a gluten-free diet in athletes improve performance?
Review: Cooking Light cookbook
Review: O'Dough's Flax pizza crust
Hope you all have a great week!! 

Kim