The cast of characters for my pulled pork is 3 items:
pork loin roast, chops or tenderloin
1-2 cups distilled white vinegar
BBQ sauce of choice (this week it will be Guy Fieri's new line)
Directions:
Season pork with salt & pepper.
Pour 1-2 cups of distilled white vinegar (I have also used apple cider vinegar when I ran out of white) into crock pot.
Place pork in crock pot & turn on "low" for 8 hours.  Leave the lid closed.
Read some more information about Guy Fieri's new BBQ sauce line.  You should have plenty of time to read this while your pork is cooking away in the crock pot. 
Among the new Guy Fieri barbeque sauces:

• Bourbon Brown Sugar Barbeque Sauce: Sweet & Sticky – Guy's sweet, sticky

Bourbon Brown Sugar BBQ Sauce rocks on just about anything. Smoky bourbon,

sweet brown sugar and a hint of spicy black pepper create off-the-hook flavor

that's a perfect compliment to everything from beef to chicken, pork and seafood.

Gluten free.

• Carolina #6 Barbeque Sauce & Marinade: Mop & Slop – Guy's Carolina #6

BBQ Sauce & Marinade is the perfectly tangy and versatile "mop & slop" sauce.

Apple cider vinegar, sweet brown sugar and a little bit of cayenne pepper heat is a

rockin' combination to be slopped right on pulled pork or used as a marinade or

baste for any grilled meat. Gluten free.

• Kansas City Barbeque Sauce: Smoky & Sweet – Guy's Kansas City BBQ Sauce

is your traditional, go-to sauce that you'll dig on just about everything. Sweet,

smoky molasses, a hint of apple cider vinegar and a little black pepper heat will

rock everything from beef brisket to chicken wings or anything else you can

throw on a grill. Gluten free.

Note: Guy Fieri has also introduced a new Pacific Rim Barbeque & Wok Sauce which is

not gluten-free.
Once the 8 hours has passed, the pork is ready to be drained (or just remove from the liquid carefully, it will fall apart easily).  Shred the pork with 2 forks & toss with your choice of BBQ sauce.  I usually let the kids decide which sauce they want.  They are both fans of the 'Sweet & Sticky' – go figure!  I liked that one, as well as the other two.  The 'Mop & Slop' was also good on salmon and the 'Smoky & Sweet' was great on my Sunshine burger & sweet potato fries.
Guy Fieri's three gluten-free barbeque sauces are available in 19-ounce bottles for a suggested retail price of $4.29.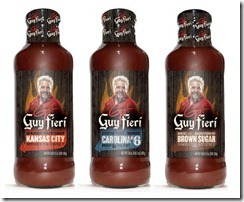 Eat your BBQ pork any way you choose.  We like the pork on gluten-free rolls, corn tortillas, salad, baked potato (or sweet potato) or even over pasta!  Get creative – as Andrea says "Play with your food!".
***The Guy Fieri sauce were provided to me free of charge to review.  The opinions stated in this post are mine and have not been influenced by anyone or anything.