I have heard many a good thing about Estrella Damm Daura gluten-free beer, but had been hesitant to try it because it is made with barley malt.  ACK!  Everything I had ever read on Celiac Disease and the gluten-free diet said to avoid barley malt at all costs.  Then I talked to another gluten-free blogger, Tiffany Janes, and due to the processing, the gluten is removed from the beer, much like that of Mike's Lite Hard Lemonade.  There is less than 6PPM of gluten in this beer.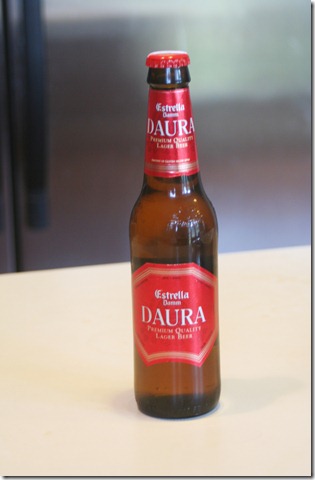 I was able to find the beer at Raisin Rack, a local health food store.  I was excited to try it out, as I had heard that it tasted most like "normal" beer.  I chose a day when I didn't have much going on the rest of the night or the next morning, just in case I reacted to the beer.  Not only was I fine, but I loved the beer!!  The flavor reminded me of the days when I could drink any beer that I chose – I loved Amstel Light – and while this isn't the same, it reminded me a lot of some of those flavors.  While I always enjoy a good beer with a burger or pizza, I drank this alone so that I could truly experience the flavors.  I will definitely be purchasing this beer again. 
Some more info on the beer & process:
Estrella Damm Daura is the result of a long collaborative research process between Damm and the CSIC (National Scientific Research Council) gluten unit, using the most advanced technology. It is the first beer in Spain to guarantee a gluten content below 6 ppm (products with a gluten content below 20 ppm are suitable for people with coeliac disease).

Estrella Damm's research and strong social commitment have made this breakthrough possible, which comes as excellent news for all those with coeliac disease.
It comes in the classic four-pack 33 cl. glass bottle format, and the label is clearly marked with the international gluten-free symbol for people with coeliac disease.
To see where you can find Estrella Damm Daura near you, click here. 
Have you tried this gluten-free beer before?  What did you think?