Today is about recovery.  Not just recovery from my long run yesterday, which really wasn't long compared to last week, but still.  Sunday is recovery day.  I am also recovering from Hannah's birthday and a tad too much wine last night.  Will I ever learn? 
In addition to trying to sleep in, which was an epic fail (I love that phrase, so I had to fit it in somewhere), I put yoga on the schedule for today and committed to nothing else.  Yeah, I would grocery shop, but no pool, no shopping, etc.  Sleeping in lasted until about 7 AM.  What am I, 75?  I feel like my grandparents getting up at the crack of dawn when I don't have to be up for anything.  I meandered out of bed and to my coffee pot to make the coveted nectar of the gods.  Hannah presented me with my chores for the day.  What, she turns 9 yesterday and now she is in charge of delegating the chores?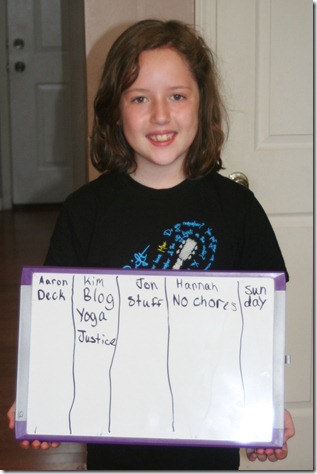 I love that Aaron has to build a deck today, Jon has "stuff" to do and Hannah has "no chores".  LOL!  At least she put yoga & blog on my list along with shopping for her at Justice. 
I did shop online today thanks to my Ebates email.  Yes, I am a sucker, but this sucker saved some money and is getting money back. 
The day ended with a 75 minute yoga class, Chipotle and a glass of red wine.  I do have a message for Chipotle – please add plain avocados to your menu.  Those of us who can't eat onions, but love avocados, can't eat the guacamole and that makes me sad.  I do love that they have great gluten-free options and are usually very careful if you get the manager involved in your order. 
---
Menu plan for this week is thrown together – lack of energy & motivation on my part.  I sure hope I win
Shirley's (Gluten-free Easily) giveaway
of Stephanie O'Dea's book on organization.
Sunday – Chipotle – spur of the moment after yoga class
Monday – Pasta with roasted grape tomatoes, chickpeas, goat cheese and fresh basil and salad
Tuesday – Tacos or Mexican pizza, black beans and salad
Wednesday – BBQ pork tenderloin, baked sweet potatoes, corn on the cob & salad
Thursday – Breakfast for dinner
Friday – MYOP (pizza) and salad
Saturday – Hannah's sleepover – don't ask me what I have done – I just know that I will be having a lot of coffee
---
Don't forget to enter the
GF Bisquick giveaway
– it ends tonight at midnight!