I have been trying to incorporate more cross training into my half marathon training to help keep old (and new) injuries at bay.  One of my new loves is yoga.  Yes, I have done yoga at home, but never in a class setting before last week.  I am loving it!!  So, when I was asked if I would be interested in reviewing Bethenny's Skinnygirl workout, I agreed because I knew that her previous workout (Body By Bethenny) was mainly yoga with some strength training mixed in.  I had done that workout a few times on Exercise TV and really liked it. If you'd like to start yoga too and need some gear, you can use this FootLocker promotional code to help you save!
Bethenny's new DVD will debut on September 12, 2011 exclusively at Target and Target.com (SRP: $16.99).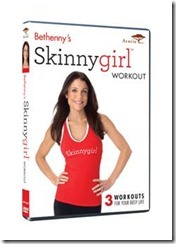 More about the new DVD:
Three easy-to-follow yoga workouts, plus recipes from the Skinnygirl Dish and bonus stretch

SILVER SPRING, Md – Following the success of Body by Bethenny, celebrated author and reality TV star Bethenny Frankel returns with Bethenny's Skinnygirl Workout,debuting on DVD from Acacia on Monday, September 12, 2011 exclusively at Target and on Target.com (SRP: $16.99). Bethenny is the star of Bethenny Getting Married? (the most-watched series premiere in Bravo's history), and New York Times bestselling author of Naturally Thin, The Skinnygirl Dish, and A Place of Yes. Since people always ask Bethenny how she stays in shape, she created Body by Bethenny last year, and this creative-based follow-up features three yoga workouts (two 15-minute, one 20-minute) with instructor Mike McArdle.

As Bethenny says, "Life gets hectic—some days I have 30 minutes to work out, other days I have 45, and sometimes I only have 15. That's why I designed the Skinnygirl Workout with three quick yoga segments that tone the entire body. You can squeeze in a segment every day, or do a couple several times a week—the most important thing is that you enjoy it.

I don't believe in expensive trainers. I don't believe in people yelling at you. I believe in realistic, sustainable fitness plans. This practice will leave you feeling relaxed, refreshed, and toned. Whether you're a first timer or an experienced yogi, this is your workout—for every day or any day.

Welcome to the Skinnygirl Workout. Make it your own, be consistent, and have fun!"

Special Features: Bonus stretching segment (12 min.) and a recipe booklet from Bethenny's Skinnygirl Dish.

Popular New York City instructor Mike McArdle has been teaching yoga for more than a dozen years. He is certified in Bikram yoga and Pilates and has also trained in vinyasa and power yoga. Bethenny has known Mike for several years, and he's one of her favorite teachers because of his creative style and fun, flowing classes.
The other night I decided to give the yoga DVD a try .  I got out my purple yoga mat & instructed the kids to leave me in peace for 30 minutes (we all know that didn't happen – it was like a free pass to come bug mom).  The workout started much like many yoga classes do, by warming up.  I was following along nicely and then all of a sudden things got complicated.  LOL!  I guess I didn't appreciate that Mike wasn't giving a lot of instruction on the poses in the beginning because I knew how to do them.  Once we entered territory that was unfamiliar to me, I got lost.  Not only lost, but upside-down down dog?!?  While I realize that this may not be an issue for those who have been practicing for years, it was for me.  LOL!  I modified and did what I could do and caught back up and completed the workout.
While I think that this is a good workout, I believe there needs to be some mention that this isn't necessarily for beginners.  That, or possibly a section on the DVD with a more in-depth explanation of the advanced poses.  I realize that these are shorter workouts aimed at those with limited time, so that is why the 'bonus' section with step-by-step instructions would be a great idea.
Have you tried Body by Bethenny?  Is this new workout something that would appeal to you?  I would love to get to the point with my yoga where I could flawlessly move from pose-to-pose without cursing the instructor. 

  Perhaps my continued participation in classes at my gym can help me progress to that point.
**I received this DVD free of charge for review purposes.  The opinions stated on this blog are mine and have not been influenced by anyone or anything.