Are you ready for another fun giveaway here on Gluten-Free is Life?  This time there will be 2 winners!  Yep, that is right, 2!!  Rudi's Gluten-Free has graciously offered to give 2 of my readers a gift package that includes a free loaf of Rudi's Gluten-Free bread and a sandwich box.  I have one of the sandwich boxes & use it all of the time!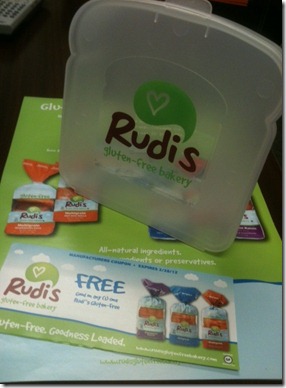 Additionally, in celebration of the upcoming Labor Day holiday, I would like to share 2 recipes from Rudi's using their products – gluten-free hamburger buns & gluten-free pizza crust.
Rudi's Greek Turkey Burger
Ingredients:
* 1 pound ground turkey
* 1 cup crumbled feta cheese
* 1/2 cup sliced olives (kalamata preferred)
* 2 teaspoons dried oregano
* 2 teaspoons cumin
* Ground black pepper to taste
* Handful of spinach for topping
Directions:
* Preheat the grill for medium high heat.
* In a large bowl, combine turkey, feta cheese, olives, oregano,
cumin, and pepper. Mix together, and form into patties.
* Cook the patties on the grill until cooked thoroughly.
* Toast Rudi's Gluten-Free buns on the grills for a minute or
two.
* Layer burger and spinach
Rudi's BBQ Gluten-Free Pizza
* Heat up your grill till it's nice and toasty.
* Top your Rudi's Gluten Free Pizza Crust with olive oil
and your favorite sauce.
* Sprinkle cheese and lots of veggies or
your choice of meat.
* Place your pizza on your grill for about
ten minutes.
* Ready, set, EAT!
Follow the directions below to enter the giveaway! Good luck!!