It's Friday!  Yay!!  I woke up this morning at 4 AM and could not fall back to sleep.  If my gym was open at 4 AM, I would have been there with bells on.  No point in laying in bed staring into darkness when I could be running, right?  While I was laying there, trying desperately to fall back to sleep, my mind drifted to pizza.  Mmmm…pizza!  I usually eat pizza on Friday night, so perhaps my mind was preparing for what is to come.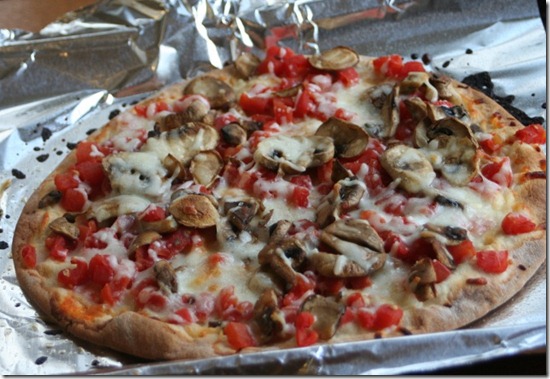 I do believe that this combination was one of my favorites.  I make this last week before my half marathon.  I would normally add more vegetables, but I don't like to overdo the veggies before a long run, so as to minimize the risk of stomach issues.  This simple pizza turned out to be the perfect way to fuel for my race.
Udi's gluten-free pizza crust
diced tomatoes
sliced mushrooms sauteed in Earth Balance coconut spread (seasoned with sea salt & pepper)
mozzarella cheese
sea salt
In case you were wondering, yes, I did eat that all by myself.  I think that I will make a variation of this for dinner tonight, only added some roasted veggies. 
---
If you haven't entered my giveaway for
Stephanie O'Dea's
Totally Together journal
make sure to
head on over to enter
!  The giveaway is open until
Monday, September 12, 2011 at midnight
. 
Kim