On one of my recent visits to Trader Joe's, I discovered a new butter.  I was checking to see if they had pumpkin butter on the shelves yet when I came across a new butter: Fig Butter.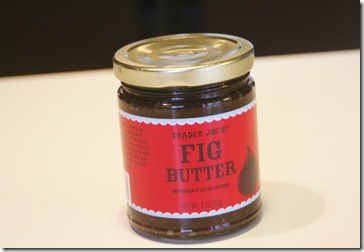 l happen to have a very special place in my heart for figs, so I couldn't go home without the fig butter.  I knew that I would be part of my lunch that day – the only question that remained was what I was going to do with it.
The fig butter did not disappoint!  I have now had it on waffles, on a bagel with cream cheese,  and on gluten-free crackers.  I am thinking that the next place to try it is as a glaze on salmon. 
Have you seen the fig butter yet at Trader Joe's?  Have you tried it? 
---
Don't forget to help spread Celiac Awareness by entering the LUNA bar giveaway!
Kim