A few weeks back I received some complimentary samples of water from Icelandic Glacial.  I know you are thinking "Well, of course water is gluten-free!", right?  Yes, you are right.  I wasn't sure what was so special about the water from Icelandic Glacial either, so I began to research.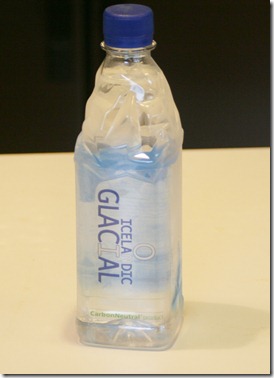 I am not one to drink bottled water normally.  I typically use BPA-free plastic or stainless bottles to cut down on our trash & recycling.  However, I was game to try this water out, as there are times when I will buy bottled water for trips & such. 
Why is Icelandic Glacial better than other bottled water?

Contaminant free
Our water is microbiologically pure when extracted and free of even trace levels of contaminants. With a TDS – Total Dissolved Solids level of only 62 parts per million and a pH level of 8.4, our water is unmatched in terms of taste & overall quality.

Bottle design
Our high quality award-winning & strikingly designed bottles are entirely recyclable and produced from stable materials to ensure the taste of our water remains unchanged.

Affordable luxury
In comparison to other imported brands of bottled water, Icelandic Glacial is a Super Premium product at an affordable price.

NSF Certified
Our bottling plant and manufacturing processes are fully certified by NSF International, the world's leading third party validation authority, to ensure full conformance with governmental and local state certification standards

Environmentally friendly
Icelandic Water Holdings ehf. is a CarbonNeutral® company which accurately reflects our commitment to making a difference to climate change. See Icelandic Glacial Green Credentials

IG's water is the purest of the pure, coming from Iceland's Hlíðarendi Spring, part of the Ölfus Spring System, a catchment zone formed during a massive volcanic eruption more than 4,500 years ago. Ölfus Spring is a renewable resource, replenished annually by infiltration of rainfall and snow melt over uninhabited lava fields. Ninety-nine percent of the Ölfus flow releases to the sea below mean sea level. The only outflow to surface water is at Hlíðarendi, where a pond collects spring discharges which then flow for two kilometres before disappearing underground. It is from this system that the Icelandic Glacial water is taken.

Source illustration:
The Ölfus Spring is fed from high in the mountains by a gradual filter of rainfall, snow and ice melt.

Glacially Inspired
Icelandic Glacial is proud of its green credentials and is clear that the water is in no way connected or fed from actual melted or melting glaciers. The 'Glacial' in the Icelandic Glacial brand name is derived from landscapes and scenery that are automatically conjured when one thinks of Iceland, and is also a reference to the peak design of the Icelandic Glacial bottle, rather than the source of its contents.
Protected Source
The local government is particularly appreciative of the need to protect this valuable resource and has applied a 128,000 acre exclusion zone around the spring. No farming, animals, or buildings are permitted in the surrounding area .
A Self Replenishing Resource, Certifiably Sustainable Resource
Naturally occurring pure drinking water is a precious commodity in most countries and water bottling companies are sometimes criticised for draining aquifers and groundwater reserves to the detriment of local communities.

Icelandic Glacial is particularly mindful of this fact, and its extraction operations account for a minor percentage of the Ölfus Spring's daily outflow to the ocean, which is more than double the world's bottled water consumption.

Icelandic Glacial has been declared by Zenith International, Europe's leading food and drinks consultancy, as truly sustainable because it doesn't deplete or permanently damage the source from which it's abstracted. Icelandic Glacial does not pump water from the spring, but collects what flows naturally to the ground surface, using an estimated 0.1% of the total spring flow annually.
I honestly didn't expect to be able to detect much difference between this water & the filtered water I drink at home.  I mean, it is water, right?  I have to say that it did taste really clean & light, though I am not quite sure what I mean by that.  LOL!  I am not trying to be difficult or snarky, just honest.  It is hard to describe what I want to say about the water, but I do love the bottle design, which is very appealing to the eye.  Would I buy Icelandic Glacial?  If I were buying bottled water, yes, I would. 
Icelandic Glacial is sold in stores across the US, UK and Canada and can be purchased online.   
Kim
**The products reviewed in this post were sent to me free of charge for this review.  The opinions stated here are mine and have not been influenced by anyone or anything.