Welcome to Friday.  Today is also the first day of fall, my favorite season.  I love the cool, crisp air and the brilliant colors.  I could do without winter following my favorite season, though.  I am not a huge football fan, but Jon & Aaron are.  Jon sports his OSU jersey when he can, though I think he has outgrown it. Here is one of my favorite pictures of Jon a few years back in his jersey.  I was playing around with my new camera & he wanted to test out the action shots.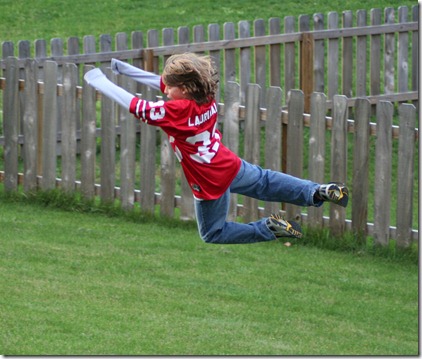 I love little quizzes.  This Friday Five quiz is one we do on a forum that I have been a part of since I was pregnant with Hannah.  I think of these women as family & can't believe that we are all still together 9+ years later!  Anywho, I thought it would be fun to do a Friday Five here today. 
Here is how it works – I will share my answers to the questions & then you can post yours in the comment section.  I look forward to reading them all!!
Some friends have invited you over to watch the big game. What do you bring for the snack table? Buffalo Chicken Dip (naturally gluten-free) celery & tortilla chips
What do you bring for a potluck lunch at work (or school)? BBQ pulled pork (crockpot) with Sweet Baby Ray's sauce (also gluten-free)
What do you think of the Facebook changes so far?  The new timeline that is coming?  The new changes are not my favorite, but I don't like change.  It would help if both of my accounts were the same, but they aren't.  I am not a fan of the timeline as far as I can tell, however, that may change once I actually experience it.  I just don't think that people need to know that much about each other.  LOL!  
You're going camping for a long weekend with a bunch of friends. Everybody agrees to bring one thing that others often don't think to bring. What's your contribution? I don't camp, so I would bring wine because I am fairly certain that I would have to be intoxicated to sleep outside in a tent.  Nothing against those of you that do it, I wish I could get past my aversion to sleeping with creepy crawlies. 
Road trip! The car in which you're going to spend twenty hours with your closest friends only has a CD player. What do you bring? Counting Crows – August & Everything After.  One of the best albums ever! 
---
Remember to head over to enter to win the
Yoplait "do the swap" giveaway
! 
Hope you all have a glorious weekend! 
Kim