Before I get down to business, make sure to check here to see if you won the "Do the Swap" Yoplait giveaway!
A few weeks back I received a sample of Rice Select Jasmati rice.  We eat a lot of rice in our house, so I knew that I would have no problem incorporating rice into many of our meals.  Additionally, Jon's newest fascination is making his version of Chipotle's cilantro rice at home.  A little about Rice Select:
RiceSelect™ supports sustainable agriculture by developing high yielding rice varieties that require less pesticides, fungicides and water resources as well as organic foods by developing new organic products, securing markets and expanding consumer demand. RiceSelect's production facilities operate pollution free and use only minimal processes to mill and package nutritious, high quality, all natural food products. RiceSelect's PET jars are re-usable and recyclable and BPA free.
Jasmati is a US-grown jasmine rice.  The beauty of this Jasmati rice is that it only takes 20 minutes to cook!  It is a nice option in place of brown rice if you are in a hurry.  It doesn't have the fiber that brown rice does, but each serving does have 150 calories & 3 grams of protein.  Toss in some edamame or black beans to boost up the fiber content.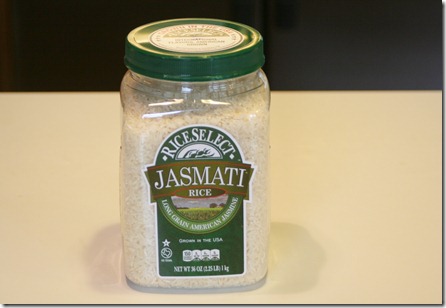 When I cooked this rice for the first time, I subbed light coconut milk (Trader Joe's) for the water for some extra flavor.  The rice turned out beautifully and everyone enjoyed it.  I don't suspect that my 36 oz container will last long with Jon in the house.
---
Rice Select is helping to raise money for breast cancer research this fall:
Texmati® In The Pink This Fall

Earlier this summer RiceSelect™ was named a national partner of Susan G. Komen for the Cure® to help in the fight against breast cancer.

During the months of September, October and November 2011, you will see RiceSelect™ Texmati® White rice will be brightening store shelves with their pink lids and labels. We will also host several local promotional events featuring our trial size Texmati® cartons featuring pink ribbons. During this three month period RiceSelect™ is committed to donate a minimum of $50,000 to Susan G. Komen for the Cure®.

Wellness is an important part of our culture at RiceSelect™ and our products fit beautifully into a healthy lifestyle. We are proud of this partnership and are committed and passionate about supporting the cause to help abolish breast cancer.
---
Rice Select has offered to give one lucky reader a tote bag & their own sample of Rice Select!  All you have to do is follow the directions below to enter.
***This product & the prize were offered as part of this review/giveaway by Mambo Sprouts/Rice Select.