Have you heard of Melt Buttery Spread?  I hadn't until I received an email asking if I would be interested in sampling & reviewing the spread.  First, I headed off to the website to learn more about the product.
Rich & Creamy Melt® is a great tasting, organic butter alternative that supports healthy weight when replacing other fats in your daily diet. Melt is the perfect blend of the healthiest fats and gluten-free oils that we've carefully chosen for you. Melt is a rich source of Medium Chain Fatty Acids (the "good" fats) that your body burns as energy instead of storing as fat, thereby boosting metabolism.

Organic Virgin Coconut Oil
Organic virgin coconut oil (VCO) is possibly the healthiest, most versatile, unprocessed dietary oil. VCO is a stable, healthy saturated fat that does not elevate undesirable (LDL) cholesterol: VCO has no trans fats or cholesterol. It is rich in plant-based, healthy saturated fats called Medium Chain Fatty Acids (MCFAs), which are not immediately stored as fat but are used for energy.VCO is also nature's most abundant source of lauric acid, shown to reduce symptoms of digestive disorders; support overall immune functions; and help fight bacterial, viral, and fungal infections. Extensive dietary research indicates components found in organic virgin coconut oil may boost metabolism, increase thyroid activity, promote weight loss, and provide optimal nutrient absorption. Plus, coconut oil has a similar melt point to butter making it ideal for baking and cooking.

Organic Flaxseed Oil
One of the best sources of Omega‐3s available. Over the past 60 years, clinical research has linked life‐threatening diseases such as obesity, some forms of cancer, heart disease, and Diabetes Type II with a chronic deficiency of dietary Omega‐3 essential fatty acids. Flaxseed oil has the highest concentration of Omega‐3 in the plant kingdom and eating it can reverse Omega‐3 deficiencies common in the American diet. Organic flaxseed oil is an essential component of Melt® and ensures that every serving delivers the perfect balance of Omega 6s and Omega 3s, a ratio of 2:1.

Organic Palm Fruit Oil
Produced from the fruit of the palm not the palm's kernel, palm fruit oil contains very high amounts of carotenoids (13 to 15 times more than carrots and 40 to 50 times more than tomatoes)  the antioxidants that our bodies convert to Vitamin A. In addition to supporting the immune system, heart health and good vision, Vitamin A may also provide protection from free-radical damage that some studies have linked to cancer. Palm fruit oil is also a good source of Vitamin E due to its high levels of tocopherols and tocotrienols, which are effective in removing damaging oxygen-free radicals from our bodies. Plus, palm fruit oil is odorless and tasteless, making it ideal for healthy baking and cooking.

Organic Canola Oil
Canola oil, which is made from the crushed seeds of the canola plant, has the lowest saturated fat content of any oil commonly consumed in the U.S., at just 7%. Canola oil is a specifically bred (not genetically modified) variety of Rapeseed. It is an excellent source of the Omega-6 fatty acid, Linoleic acid, and Omega-3 fatty acid, Alpha-Linoleic Acid (ALA). These fats are particularly important because our bodies cannot produce them. Studies show that ALA may help protect the heart through its effect on blood pressure, cholesterol, and inflammation. Because of its light flavor and smooth texture, canola oil is one of the most versatile cooking oils.
Melt is gluten- and soy-free.  It is not vegan or dairy-free.  I couldn't wait to try Melt on my next gluten-free bagel or slice of cinnamon raisin toast.  First I tried it on my bagel and loved it!  Then, the toast – loved that too!  The real test was other people – specifically, Hannah's friends.  We used the Melt Buttery Spread to make garlic cheese bread at her sleepover this past weekend and were met with rave reviews!!!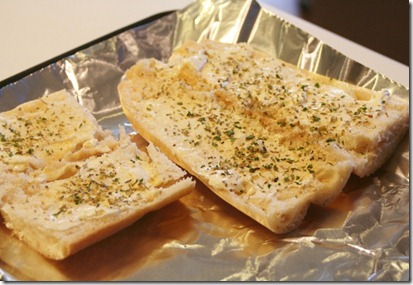 I was hoping for leftovers and sadly there weren't any.
Melt can be used in place of butter in cooking & baking.  Read below for some tips:
Tips for Cooking and Baking with Melt®
Try Melt® as a healthy alternative in all your cooking and baking! Because of its stability under heat (smoke point 350°F), Melt is slow to breakdown and oxidize making it ideal for baking and sautéing. Melt can be spread on hearty breads, melted over vegetables, or used just like olive oil or butter in your favorite recipes.

TOPPINGS

Blend Melt with chives for a great potato topper.
Sauté nuts in Melt for a perfect salad, casserole or sundae topping.
Dollop Melt on hot steamy vegetables.


COOKING

Sauté garlic and ginger in Melt, stir in a tablespoon of chili oil – then add to your favorite stir fry, curry or Thai recipe.
Drizzle Melt over grilled chicken, fish, vegetables or fruit instead of olive oil.
Toss pasta in Melt instead of butter or olive oil.


BAKING

Great for pie crusts or pastries! Measure Melt, place in freezer for 15 minutes prior to use in baking – this firms to make it easier to cut into crusts, scones, pastries, etc.
Substitute Melt for butter in your favorite graham cracker crust.
Use Melt in any bar or cookie recipe. We love it for our Naughty Granola Bars!


DIPPING

Microwave Melt 15 seconds for artichoke dipping.
Heat Melt with fresh lemon as a dipping sauce for shrimp, crab, clams or lobster.


POPCORN

Pop popcorn in melt instead of oil for a delicious buttery flavor without the guilt.
Drizzle Melt over your favorite popcorn.
Blend Melt with your favorite spices for a savory popcorn treat.


HOLIDAY

Give your favorite dishes a delicious sweetness by topping them with Melt.
Blend cinnamon, brown sugar and nutmeg to Melt for a tasty sweet potato topping.

Just like butter, it is important to heat Melt slowly and not allow it to reach extremely high temperatures.
Want to win a dinner party for you and 10 friends?  Check this out:
Enter to win a $500 VISA gift card towards your Mingle With Melt dinner party from Rich & Creamy Melt® Buttery Spread!

Enter to win a chic, foodie evening-in with friends from Rich & Creamy Melt®, the great tasting, organic butter alternative that's good for you.

One winner will enjoy a $500 Mingle with Melt VISA gift card with which to buy food, decorations, cocktails, cooking supplies, and maybe, the perfect little black dress, for your dinner party!
To enter, click here.  The sweepstakes is only open until October 31, 2011.  **Note while this is being mentioned here on Gluten-free is Life, we are not accepting entries here on our blog or choosing the winner.  You must follow instructions here to enter.
***The samples reviewed here were sent to me free of charge for review purposes.  The opinions stated in this post are mine and have not been influenced by anyone or anything.