Welcome to October!  Are you ready for fall?  Leaves are changing & the holiday decorations are out at Kohl's.  Good times!
Do you like peanut butter?  I do!  I eat some kind of nut butter daily and more than 50% of the time, it is peanut butter.  Not only does peanut butter give me a boost in protein, it tastes good, too!  One of my favorite ways to eat peanut butter for breakfast or for a snack is to spread it on rice cakes.  Sometimes I'll top that with jelly, but my all-time favorite is pumpkin butter.
Quick Peanut Butter & Pumpkin Rice Cakes
2 rice cakes
1-2 TBSP Planter's peanut butter
1-2 TBSP pumpkin butter
1-2 TBSP raisins
Assemble the rice cakes and toppings in the order listed.  Enjoy!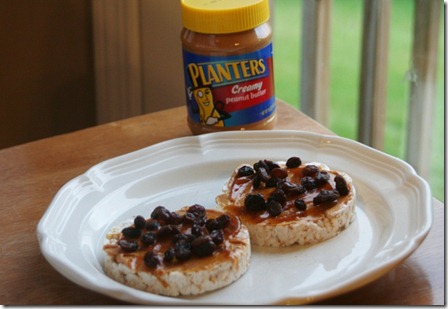 Can't go wrong with this combination!
Some other peanut butter snack ideas:
spread on apples
cut a banana in half lengthwise, spread with PB and make a banana sandwich
spread on celery & top with raisins (also called "Ants on a Log")
spread on gluten-free crackers
Planter's peanut butter is new to the market.  I was excited to get the new peanut butter & try it.  I have to be honest, though, I was a little disappointed in the ingredients.
Roasted peanuts, sugar, hydrogenated vegetable oil (rapeseed, cottenseed, and soybean oils), salt
I am sad to see hydrogenated oils in peanut butter.  I understand that companies tend to use it to make the nut butter creamier, but why not use something else, like palm oil?  The peanut butter does taste good, but it is a little sweet for my taste.  I prefer my nut butters without added sugar or oils, though I can see where this product might appeal to kids.
Planter's peanut butter can be found in grocery stores around the country and on Amazon.com.
This post is part of a Foodbuzz Tastemaker program with National Peanut Board.  The peanut butter reviewed & used in the recipe was sent to me free of charge.  My opinion has not been influenced by anyone or anything.