Last week I roasted a large butternut squash and used it in various meals throughout the week, as well as a side dish or a salad topper.  The squash is easy to roast.  Slice open (carefully), clean out seeds & then simply roast in the oven for about 40 minutes at 400 – 425.  If you are using the squash in a recipe that requires it to be pureed or in chunks, skin the squash & cut into chunks before roasting.  I did this and then tossed with extra virgin olive oil & Trader Joe's South African smoke seasoning blend.
After the squash was done, I got to making the first recipe I was using the squash in – Butternut Squash Mac & Cheeze.  I made some small changes, but the results were still spectacular!
1 fresh butternut squash* (see my method above)
Extra virgin olive oil, S & P
1 tbsp Earth Balance (I used Melt)
1 cup unsweetened & unflavoured almond milk (I used unsweetened vanilla Almond Breeze)
1 tbsp arrowroot powder (I used cornstarch)
5 tbsp nutritional yeast, or more to taste
2 tsp Dijon mustard
1/4 tsp garlic powder
3/4 tsp kosher salt (or to taste) & ground black pepper, to taste
4 servings brown rice macaroni (8oz or half a 16oz package) makes 3 1/4 cup cooked
Mix-ins of choice (I used kale and chunks of squash)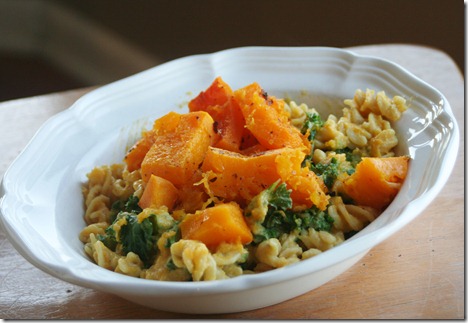 I loved this dish – it was flavorful & filling.  Perfect fall day treat! 
---
Believe it or not I still had squash left over and I was planning on pizza for Friday night.  Can you see where this is going? Butternut squash pizza.  Then I just had to figure out what to top it with.  I asked for some ideas on twitter and loved that I had the first two that were suggested already on hand: pine nuts & goat cheese.  I found a few other ingredients to add to those 2 and got to work.
Kinnikinnick personal size pizza crust
Butternut squash (roasted & seasoned as directed above)
Goat cheese
Pine nuts
Sun dried tomatoes
Chopped broccoli
Spinach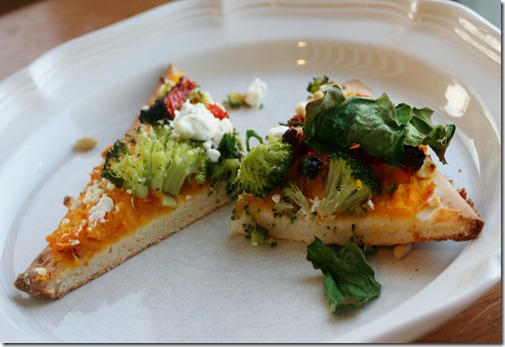 I loved this combination!!  I thought about adding shredded carrots after the fact – perhaps in place of the broccoli?  I managed to finish off the whole thing by myself (not that my family would have eaten this combo – they think I am weird). 
Do you like butternut squash?  What is your favorite way to prepare it?