A few weeks back we received some samples from Doc's to review.  I was excited as we eat a lot of salad & I love finding new marinades to change up our meals.  Doc's has a wide variety of products
salad dressing & marinades (Miso vinaigrette, Cilantro lime vinaigrette, Balsamic vinaigrette & Lemon basil vinaigrette)
salsa
dipping oil
BBQ sauce (coming soon)
olive oil (coming soon)
I have used the dressings on multiple salads and I believe that the Cilantro Lime Vinaigrette is my favorite.  I love the flavor of cilantro as long as it isn't overwhelming and it is just perfect in this dressing.  I also used the balsamic vinaigrette to marinate & cook chicken breast in.  The chicken, cooked on my George Foreman, was moist & flavorful served over a bed of coconut baked brown rice.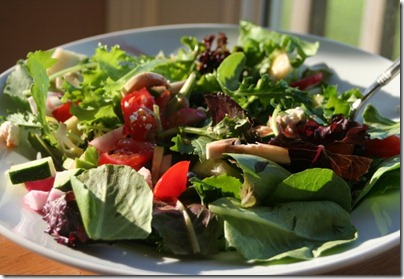 I loved, loved, loved the dipping oil paired with Chebe focaccia & Schar's French baguette.  Thank goodness for running & carb loading, right? 
The rest of the family ate the salsas, but I did manage to dip a few chips in each.  We love blue corn tortilla chips and when the bag gets opened, they don't hang around for long!  Both salsas had great flavor & texture and the "Wild & Wooly" is certainly that!
Doc's products can be purchase on their website, through Green Bean Delivery or at Bigg's or Remke's markets. 
***The products in this post were sent to me free of charge for review purposes.  The opinions stated here are mine and have not been influenced by anyone or anything.