Potatoes are my friend.  I love them in most forms.  When Foodbuzz & Simply Potatoes joined forces to send out coupons to review their potatoes & create recipes, I jumped all over it!  Breakfast for dinner is usually on our menu at least once per week and the hash browns would be the perfect addition. 
The first thing I noticed about the Simply Potatoes packaging was the clear labeling: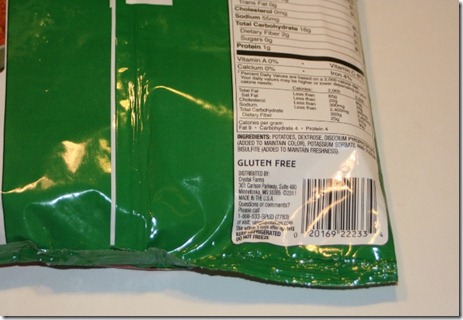 There was no deciphering labels – they said "gluten-free" right on the back.   I immediately began to brainstorm what our dinner would include.  Eggs, these hash browns, turkey bacon and some fruit. 
Jon prefers his eggs scrambled with cheese.  He also likes cheese on his potatoes, so I topped the hash browns with shredded cheddar once they were cooked.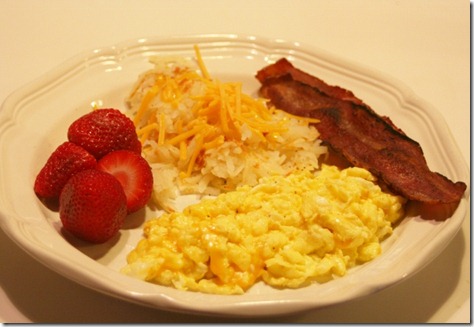 Hannah likes her eggs once over easy, so I played short order cook and that is what she got.  She is also a huge fan of cheese, so her hash browns received a generous portion of cheddar, too.
After preparing the kids meals, I was looking for something simple for me.  I piled my hash browns in a bowl and topped with chopped turkey bacon, red kidney beans (leftover that I needed to use up) and a fried egg.  Now that I see this I realize I should have added some avocado!  Darn!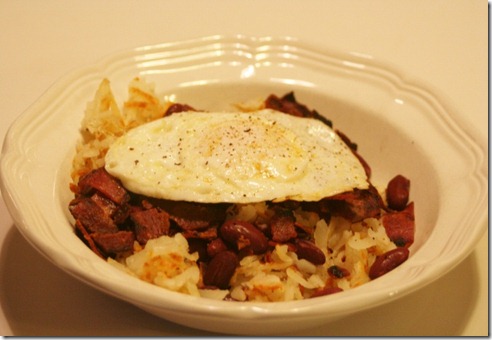 The potatoes cooked quickly & simply (just like the name suggests).  I followed the directions on the package which suggested adding a tablespoon of oil to the pan and then cooking on each side for 6-8 minutes.  While I prefer to cook with whole foods, this would be a nice shortcut if I were in a hurry.  We all enjoyed these potatoes – breakfast is always a hit on our house!
We also sampled the Garlic Mashed Potatoes with our rotisserie chicken.  The potatoes were good, but nothing can top Aaron's garlic mash!  Again, nice (and gluten-free) if you are in a hurry. 
All of the potato products are gluten-free.  The mac & cheese side dish is not gluten-free.  Per the website:
All Simply Potatoes® mashed and cut varieties have been confirmed to be gluten free. Our new side dish,Simply Macaroni & Cheese®, however, is not gluten free.
Have you tried any of the products from Simply Potatoes?  What did you think?
There are many other gluten-free products offered by Simply Potatoes.  Interested in winning a years supply of Simply Potatoes?  Simply (hehe) become a member of Simply Potatoes (free) and you are entered to win!
**This post is part of a Foodbuzz Tastemaker program with Simply Potatoes.