No, I did not really eat pie for breakfast, though it did taste a bit reminiscent of pumpkin pie.  Check out my find from grocery shopping this week: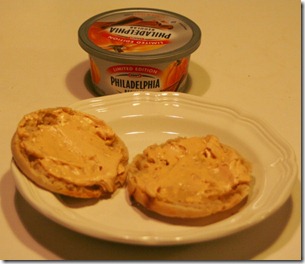 Grocery shopping is a lot like treasure hunting, isn't it? 
Pumpkin spice Philadelphia cream cheese.  You know that once I checked the label & confirmed it was gluten-free, there was no leaving that in the store, right?  It did help that it was on sale, but I doubt if $.30 would have stopped me. 
Not only have I enjoyed this on Food for Life English muffins, but Van's waffles, too!  I am not even sure that putting this on something is necessary – it is fantastic on its own, though that is probably not the healthiest way to eat it.  It is like having pumpkin pie & cheesecake for breakfast.  I added raisins on top of my waffles for some extra flavor today – really don't see this lasting long in this house. 
What is your favorite flavor of cream cheese?  Are you a sucker for pumpkin like I am?
---
Hope everyone has a fantastic weekend!!  Any fun plans? 
Kim