Do you remember this post from late August?  You know, the one where I shared my organized chaos in my office/loft?  I admit that things got a bit off track in early September – Hannah had her appendix out & I became her nursemaid, then hockey started, yada, yada, yada. 
Well, of all days to complete the task, I did it today!  I say that because I may have had one too many glasses of wine last night and didn't sleep well after that.  Perhaps trying to sleep in my grandmother's reclining chair was not the smartest of choices.  I believe I got up & moved at 4 AM when my hip was numb.  It was all worth it, though, as we were in Cleveland to celebrate her 90th birthday!  I can only pray that I look this good & get around this great when I am her age.
Four generations of women.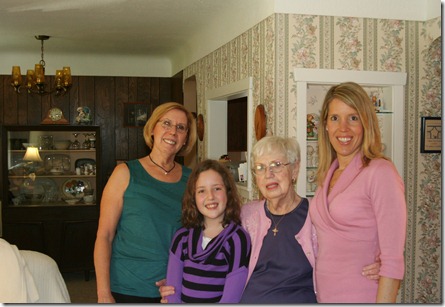 Happy 90th b-day, Grandma!
---
Now, back to my desk.  Check this out: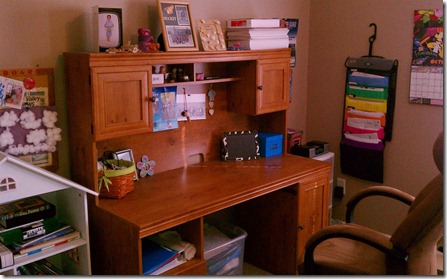 I am not proud of how long this took, but I am proud that it is done.  I even left a plastic tote underneath for the schoolwork that the kids bring home.  It will often get placed on my desk and once one pile starts, it is all downhill from there.  Almost 2 months from the original post, I did it.  I did work on this in parts, so I didn't just leave that disaster for that long & attack it all today.  I just finally took the time to put in that last half hour or so today. 
Now I might not feel so guilty when Siri arrives this week and I spend lots of time messing around with my new iPhone.  Maybe she can get me organized?  Hmmmm…….