No tricks here, only treats.  I thought I would share a few tidbits with you guys before the weekend.  Lots of little things floating around my head & computer that I want to share, but not enough to justify a post of their own. 
Halloween is Monday, as is our trick or treat night.  We have had plenty of candy.  I should know by now that it won't last in our house & shouldn't even bother to bring it home until the day of trick or treat.  Aaron brought candy home from work that we all have been in; I bought a couple of bags to fill some treat bags to "Boo" our neighbors and most of that has disappeared, too.  For those looking for gluten-free candy lists, I have been using the following:
Sure Food Living – Alison put together a wonderful list this year
Glutenfreeville – A larger list – great for referencing after the kids trick or treat
---
My new favorite cup – Tervis Tumbler.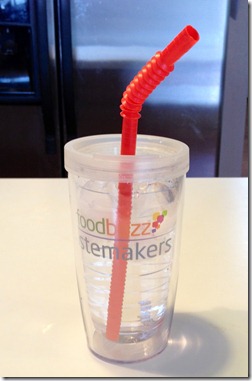 I have this fancy one that was sent to me as part of the Foodbuzz Tastemakers program with Tervis Tumbler and I have another one that is larger with a peace symbol on it.  Aside from being dishwasher safe (a must), they don't sweat.  I drink a ton of water and when I don't use these cups, I always find my cups dripping on tables & other surfaces.  They also keep hot drinks hot (COFFEE!) for an extended period of time. 
---
Jon's current favorite food combo.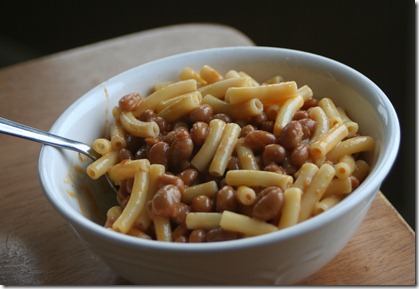 Yep, baked beans + Trader Joe's gluten-free macaroni & cheese.  Not bad – I remember doing this as a kid, too!
---
Aaron took to the kitchen to bake some goodies with Jon the other day.  They made some Betty Crocker chocolate chip cookies and muffins.  The muffins were made from
Pamela's
Pancake & Baking Mix, with a little modification.  They were lemon muffins sprinkled with powdered sugar.  I asked him what he did so that I could share here with you all, so here goes:
Pamela's Muffins
*Recipe from the side of the bag, modifications made by Aaron
1 1/4 cup Pamela's Mix
1/4 cup water (Aaron used mostly lemon juice & a splash of water)
1/3 cup honey or 1/4 cup sugar (Aaron used sugar)
1 egg
1 tsp vanilla
Powdered sugar (to sprinkle over the top)
1.  Mix all ingredients together and spoon into greased muffin pan, 2/3 full. (Aaron used cupcake liners)
2.  Bake in preheated oven at 350 for 18-20 minutes.  Makes 6 muffins. (Aaron doubled)
3.  Sprinkle with powdered sugar once they have cooled slightly
Jon ate these for breakfast throughout the week.  They stayed nicely on the counter and he warmed them slightly & topped with butter before eating each morning. 
---
Don't forget to
enter to win
a fun package from Pamela's products. 
Kim