Kinnikinnick is going to be streaming a live cooking class on their UStream channel & Facebook page.   Stress Free Holiday Appetizers & Desserts will air at 6:00 PM MST on Tuesday, November 15, 2011.  This is a great resource for those that have been newly diagnosed with Celiac Disease or for family members who are trying to learn to cook and gluten-free.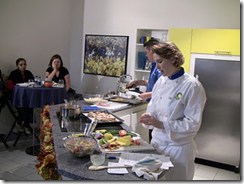 (source)
More from Kinnikinnick:
Demystify the art of whipping up fancy and elegant appetizers and desserts for the holiday season. Stress-free recipes that make it look like you fussed!
If you are unable to view the cooking class live, you can view archived classes on the UStream channel.  Some of the other archived classes include:
Quick & Easy Meals with a Southwestern Flair
Appetizers & Desserts Cooking Class
Cooking Class Part 2
I don't know about you, but I always seem to make the same things over & over again for holiday meals.  I think classes like this can be great inspiration for creating new holiday recipes & menus.  While there is something to be said about tradition, there is nothing wrong with introducing a new dish or 2.
Kinnikinnick is one of those companies that I know I can always depend on.  They were one of the first gluten-free brands that I bought when I first began my journey and I still enjoy many of their products today!  Not only are their products widely distributed in the US and Canada, but their online shipping deal, $10 flat rate, is great when it is time to stock up!  Involvement in the gluten-free community is key.  Finding out what your customers like & want is the way to success and Kinnikinnick has paid close attention.
Some of my favorite Kinnikinnick products are the pizza crusts, pumpkin donuts and KinniToos cookies.  I can get most of their products locally except for the seasonal donuts.  What are your favorite Kinnikinnick products?  Do you stick with the same holiday menu year after year or do you like to change it up and add new recipes?