I promise it is November, though it certainly doesn't feel like it.  Today the high is 70 and it is raining.  Yesterday was equally as mild, though super windy.  I'll take warm & rain over cold & snowy/icy any day.  I am still feeling kind of icky due to sinus issues that I am sure the weather is not helping.  The up & down temperatures seem to mess with my head.  I started to use the neti pot again, so that should help. 
Another busy hockey practice and meeting week.  While I am looking forward to Thanksgiving & Christmas, I think I am looking forward to the break in routine more. 
Sunday – Pei Wei for the family after yoga.  I had a salad w/ Sunshine burger.  I was tired and just wanted to go to bed.
Monday – Rotisserie chicken, baked potatoes, steamed broccoli & salad
Tuesday – Easy enchilada bake, corn & salad
Wednesday – Grilled chicken alfredo over Schar gluten-free pasta, roasted green beans and salad
Thursday – Breakfast for dinner and fruit salad
Friday – Make your own pizza and salad
Saturday – Burgers, sweet potato puffs, roasted asparagus & salad
---
Last week I finally had a chance to make the
pumpkin brownies
I was craving.  Check
them out here
!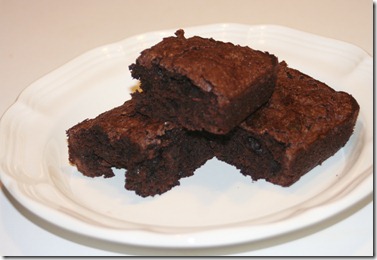 If you missed my "Surviving the Holidays" series, check the posts out here & here. 
---
Today is the
last day
to enter the
Riceworks giveaway
!