This past Sunday I ran a 10K race at Highbanks Metro Park.  Highbanks is notorious for the hills, which some have deemed "the cliffs of insanity".  Some of the trail is paved, but most of the hills are dirt and gravel with fallen leaves scattered about.  The Buckeye Classic 10K is a race I have been hearing about for a couple of years, but was not able to run until this year for various reasons.  This race was made even better by the meet up of some friends from the Daily Mile Columbus group – RUN DMC.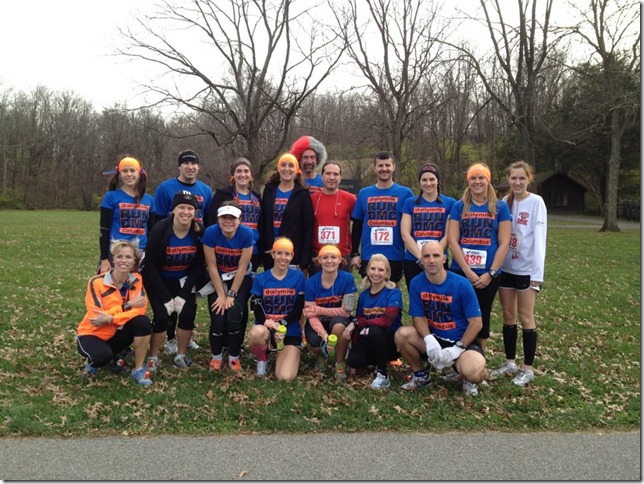 I had been running one of my runs per week at Highbanks to prep for the hills.  I had no intentions of "racing" this race, but just having fun.  If you know me, you know how well that worked out, right?
Jessica & me before the race: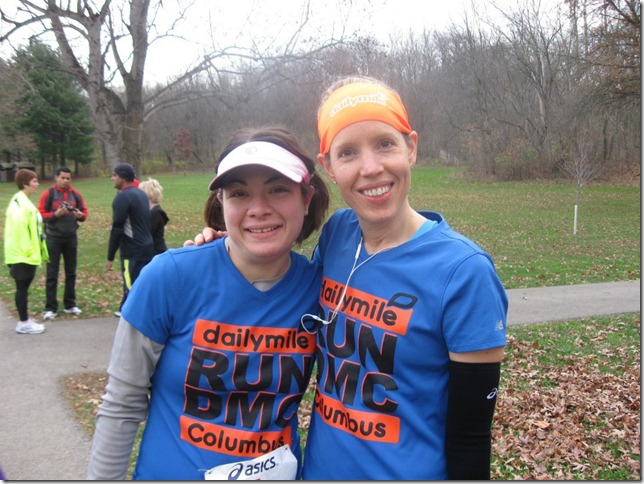 After warming up for a mile and taking pictures, we lined up at the start.  The weather was uncharacteristically warm for November in Columbus – 55 degrees.  WHAT?  No gloves, no ear muffs and shorts.  Love it!  The wind was a force to be reckoned with, though.  20 MPH winds make for tough finishes when they are coming right at you.
At 9:00 AM, we were off!  I started out way too fast, as per usual.  I will never learn.  I didn't fret too much, though, this was "only" a 10K, not a half or a full marathon (ha…again, never underestimate going out slower than you think you should – it will always pay off).  Also, since this was run on a trail, it was tough to weave around the other runners.  I wanted my own space, so I passed some people.  First mile 9:08 – I managed to reel it in a bit.
Mile 2 started the hills.  I named the first hill in the race "the hill of death".  It was steep and seemed to go on forever.  My pace obviously slowed and this mile was run at a 9:43 pace.
Miles 3-5 were up and down and even included steps.  It is sick when you think that running up steps is easier than the hills you are running, right?  If it wasn't for another RUN DMC friend right in front of me on the hills, I may have slowed even more.  Thanks to Alissa for powering up them and I was just putting one foot in front of the other.  We occasionally passed each other back & forth.  I was thrilled when we started coming down the hills and couldn't wait until we hit flat ground again.  Little did I know what was waiting down there.  Pace – mile 3 9:32; mile 4 9:30; mile 5 9:03.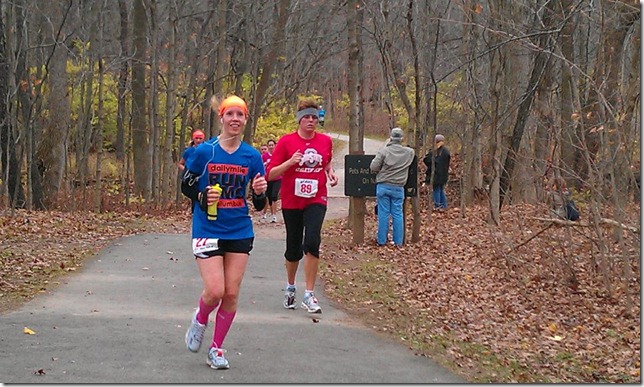 This is me coming down out of the hills onto flat ground.  See the smile on my face?  It turns out that it wouldn't be there for long.  LOL!  As soon as we were out of the shelter of the hills & woods, we were hit with strong winds.  I would estimate they were about 20 MPH, but I am not a meteorologist.  As we were coming along the final stretch it felt as I was standing still, though I was still working very hard.  I knew that I was at or above my maximum heart rate, as I felt like puking.  Somehow mile 6 ended up being run at a 8:59 pace – my legs were toast by this point!  Alissa came back up behind me at the very last minute and we sprinted in together!  It was great to cross the finish line with another RUN DMC friend!!  I sure hope someone got a picture of that!
I ended up finishing in 57:37!  My secret goal (that wasn't really a goal…LOL) was to finish in under an hour.  I finished 175th out of 452 total people, 22nd in the 30-39 female group and 12th in the 35-30 female group.  My previous 10K PR was run on a flat course – 53:22, so I didn't have a chance in hell of hitting that.  I can't wait to run this race again next year!  Serious hill training must commence before that, though.
I concluded my day yesterday with yoga, though it took everything I had to drag myself there.  I was sound asleep when my alarm went off at 4:30 in the afternoon.  I knew I had to go to stretch out my legs or I would be paying for it all week.  I am thankful that I got up and went to class.  Not only did my legs feel fantastic afterwards, but my headache was gone, too!